A Mini - Mini Album Blog
This is where we rave about all the new stuff added to Scrapbook Crazy is added. If you're a regular visitor then this here should be your first port of call. Any new tutorials and mini album features will appear here first.
Jul 24, 2011
Make a Crochet Mini Album Scrapbook
Another mini album tutorial from Kerri. This time she combines her love for crochet with mini album making to create a fabulous keepsake. Take a look and see how you can make this very unique crochet mini album. If you're crochet skills are lacking you should be able to easily pick it up in a short time with a little help from the many online crochet help pages. If i can do it, anyone can.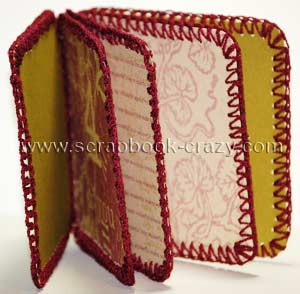 Hand made mini book with crochet finish
See more scrapbook album instructions