Christmas Scrapbooking Ideas and Mini Albums
"Lots of DIY Christmas scrapbooking fun found here"
One of the best and busiest times of the year for a scrapbooker has got to be Christmas and the holiday season. So many mini books and altered gifts and Greeting cards to make for friends, family, teachers and others that have helped us throughout the year. We also have our own end of year or yearly round up mini albums to make, not to mention decorations for the house! Like I said "Busy, busy!!"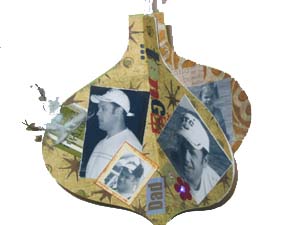 It is also a whole heap of fun, that is if you start early enough. Never leave it to the last minute or else you will be freaking out a week before xmas with no cards to send or presents to wrap. Take it from me, middle to late November is the time to start.
So what projects do we have that you can make?
Christmas Mini Album - All the ideas that you will need to make your Xmas mini album.
Christmas tree decoration mini album tutotial - Make this fabulous decoration that you can hang on your tree or around the house this holiday season. Great gift for your extended family as well.
Calendar - Find a quick and easy calendar to make. Throw in a photo of you and your family from the current year.
Teacher Gift Set - A cute gift set with a post-it note holder, pen and greeting cards
Christmas ABC's Mini Book - Use this list to compile your minibook about Christmas. Each page represents each letter of the alphabet.
Year in review scrapbook theme - Make a mini to store all the precious memories from this year.
Brag Book - Create this fabulous gift idea for your Mum, Grandma or extended family members.
Altered Clipboards - Neat gift and simple to make.
See more gift ideas on our Altered Christmas Scrapbooking Contest page or add your own. This contest ends 10 January, 2009.