Make a Scrapbook Calendar
Making a scrapbook calendar is a great project that you can share with your children. They make wonderful presents for friends and family around Christmas time as a new year will be only a few days after..
Traditionally when you think of a yearly calendar the following four types of calendars come to mind
Wall hanging calendar
Pocket sized calendar
Fridge or magnetic calendar
Desktop calendar or rolodex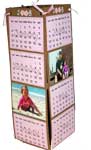 You can purchase any of these items cheap from a dollar store and alter them to create a handmade calendar with just a few scrapbook supplies, a photograph, and a little creative energy. You can cover a wall calendar with a scrapbook inspired layout; Turn a small mini album into a pocket calendar; Print a pocket calendar onto your favourite family photo to keep in your wallet or to stick to your fridge.
See our printable calendars for 2010 and 2011 below.
Scrapbook Calendar Instructions and examples
Make a scrapbook calendar from scratch
You can even create one from scratch from your stash of scrapbooking supplies and a base made from either cardstock, chipboard, acrylic or some other medium. Take a look at this short list of items you can use as a base for your calendar.
Altered Rolodex
CD jewel case
Altered calendar
Paper bag album calendar with book rings (similar to a stand up purse album)
Tag book calendar
Magnetic calendar
Wallet calendar
Chipboard calendar
Alter an old photo frame
Clipboard calendar
Acrylic
Coasters
CD's
Photo frame Calendar
Canvas frame
Calendar templates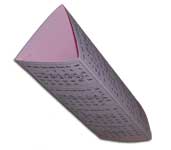 You can search the internet for one of the many, freely available printable calendar templates. Simply find one that you like and print it.
I have made a couple of templates that can be used in a number of different ways.
Print it and use it as is. Stick some pretties on it and hang it on your wall
Fold the printout into three sections and stick the edges together with double sided tape. The end result is a basic stand up triangle shaped calendar for your desk or mantle.
Cut out each calendar month and use them however you choose.
Download your free 2011 Calendar Template A4 (511kb)
Download your free 2011 Calendar Template 12"x12" (447)
Download your free 2010 Calendar Template A4 (599kb)
Download your free 2010 Calendar Template 12"x12" (457 kb)
Made by you
Some handmade calendar submissions from readers and crafters around the world. Submit your calendar creation to the gallery to inspire others.
Last thoughts
Why not think of some personal goals you might want to achieve in the next year and scrap them into your own calendar. It can serve as a creative reminder to help you achieve them through the year.