How To Make a CD Mini Album
Make a CD Mini Album from recycled CDs and DVDs. We have some great projects that utilize a very readily available product and some of them are environmentally friendly too. How can you go wrong. So check out our CD scrapbooking projects and give them a try yourself. You'll be amazed at what you create.
CD Scrapbooking Tutorials

Basic CD Mini Scrapbook
The most basic of CD minis. Take a bunch of reclaimed CDs, slap on some pretty scrapbooking papers, photos and an embellishment here and there. Punch a hole, add a book ring and wallah! One CD Mini Album.

CD Tin Scrapbook **new**
CD tins are fabulous for creating one of a kind mini album keepsakes. Make a simple accordion or concertina folding album pop it inside. Your photos will be protected inside the tin casing that is oh so trendy.

CD Holder Mini Album
Turn those old cardboard cd holders and cd mailers into your next mini scrapbook project. Add a piece of cardstock to extend the number of pages it holds. Contains pockets for tags, mementos and other scrapbooking treats.
Basic CD Mini Album
Materials
4 or more old CDs or DVDs
Patterned paper and cardstock
1 book binding ring
Paper trimmer, craft knife, a sharp pencil Adhesive (I used a modge podge and double sided tape)
A hole punching tool that will punch a hole through the CDs. I used the amazing easy to use crop-a-dile (can't live without it)
Ribbon
Scrapbook embellishments
Step by Step Directions
Step one
Trace the shape of the cd on to the back of your cardstock or patterned papers and cut them out with a pair of scissors. Alternatively you can place the CD onto the cardstock and use your craft knife to cut around the edge. Cut enough to cover both sides of each CD.
Don't worry if there is a little overhang. We will fix that up with a bit of sandpaper later on.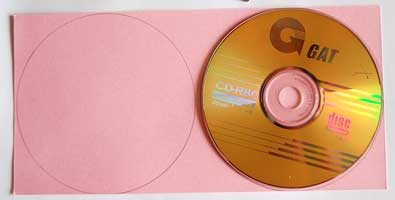 Step two
Spread some glue onto the face of the CD. Be sure to spread it evenly over the entire CD (I haven't done this in this image below but make sure you do)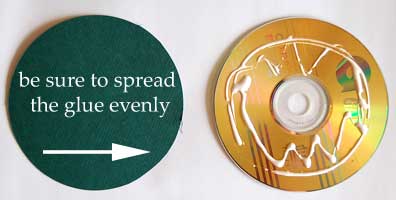 Step three
Adhere the cardstock to your CD and leave it to dry. Repeat for the remaining CD's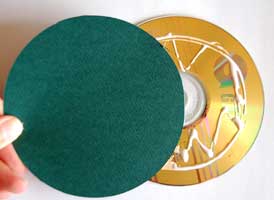 Step four
Trim of any overhanging edges with a craft knife and smooth off the edges with a pieces of sand paper. You can ink your edges if you wish.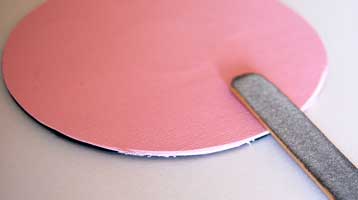 Step five
Once the CDs have completely dried, punch a hole through each one approximately 1/2" in from the edge.

Step six
Embellish your CDs and slip them onto the book ring. Tie a few short lengths of ribbon on to the book rings to jazz them up a little. Note that I have covered one of the CDs entirely with one 5"x7" photo and trimmed the edges.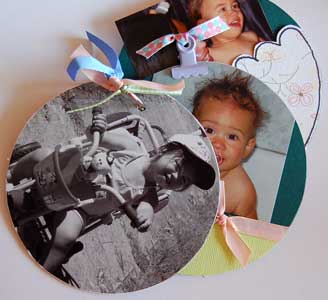 Hints and Tips
Add more CDs whenever you can.
Cover CDs with photos instead of patterned paper or card.
Grab some of those mini cds that are smaller than a regular CD, there are even wierd shaped CDs that you can use.
Return from a CD Mini Album to home