Acrylic Scrapbook Mini Album
How to make a clear scrapbook mini album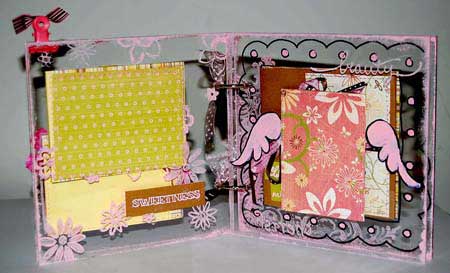 An acrylic mini album is quite simply an album or altered book made from clear transparent acrylic sheets that have been trimmed down to size. The most popular method for binding acrylic albums is with binder rings. Holes are punched down the sides and the book is bound together with 2 or three loose leaf binder rings.
Acrylic, otherwise known as...
You may come across similar products with names like Polycast, Lucite, Plexiglass and perspex. While there are some differences in properties they are all pretty much a variation on the same product. For our purposes as scrappers all we need to know is that they are a tough often transparent material that have the potential to make fantastic mini albums.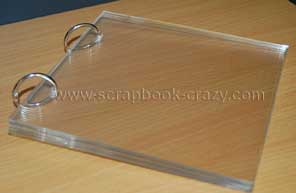 You can also purchase book binding covers from your stationary store although these are quite thin and can sometimes buckle.
It's a clear mini album
Take full advantage of the transparency that an acrylic album offers. Don't be tempted to cover it up with patterned paper.
Tutorials
Acrylic Mini Album Instructions
Clear albums are the hottest new trend, learn how to make an acrylic album using acrylic sheets from your local hardware store.
Acrylic Minis
Back to the mini album gallery