Wedding Instax Guest Book with Washi Tape
Make a guest book with washi tape, patterned paper and simple embellishments.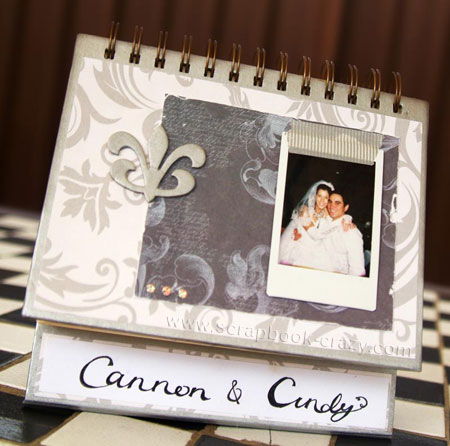 My cousin got married very recently and as per my usual wedding gift I offered to make him and his wife a Polaroid Instax Guest Book
I wanted two things in this guest book - instax polaroids or instant photos and washi tape. I'm a little bit crazy about washi tape, it's a worry.
I chose my colour theme to match closely to that of the invitations which was silver and white. I headed off to my local Spotlight craft store to find some Wedding themed papers to decorate the signature books cover. Luckily enough you can pretty much guarantee that there will be Wedding themed papers in stock at any time (that was a bonus for me as I had left everything to the last minute)
I bought some silver and white patterned scrapbooking papers that had lots of swirly designs that reminded me of some vintage wallpaper. I also added some black papers with silvery white highlights as I wanted to include a polaroid pic on the front cover of the signature book. The white borders from the the photo would blend in to the background too much if I had used silver or white card to back it and I wanted the photo to pop.
I ordered some silver patterned Washi Tape below from Washi Lane. I would use the tape to secure the photos into the album. The tape looks good and I only had to buy a 3 different rolls as one of the rolls actually had 4 different silver/white patterns on it. Bargain.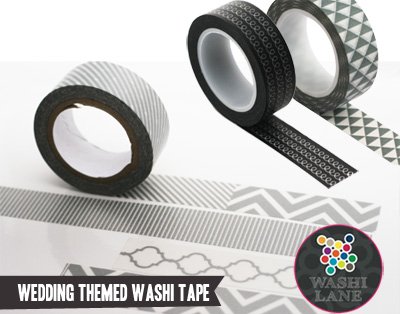 Rolls of Wedding washi tape from Washi Lane: Four in one Silver, Telephone cord in black, Triangles galore in grey.
Making the book - Cover
You might have seen the last Polaroid guest book that I posted on Scrapbook Crazy here.
This one was very much the same. I still have a few of the flip books from the 7Gypsies line which I think are great to use as guest books. I don't think they make them anymore but you might be able to find a similar item. My flip book has 40 or so card pages that can be written on to.
The cover itself is very simple and made with the following elements:
First up I covered the entire chipboard covvers with 2 coates of silver acrylic paint. You need to carefully remove the covers from the o-ring wire so that you get nice even coverage over the whole cover. Reassemble the mini book once the covers have dried completely.
I took my patterned wedding papers and cut them into different sizes so I could try different layered looks. Each piece of patterned paper used was lightly sanded around the edges to give it a textured look.
I painted a chipboard fleur de lis embellishment and adhered with white glue
Three swarovski crystal embellies were adhered to cover to balance the cover.
A photo of the bride and groom was taken early at the reception and attached to the cover with Washi tape. ( I did take a photo at the church immediately after the ceremony but it was promptly claimed by our grandmother)
The label with the bride and grooms name at the bottom was handwritten. I had intended to print it with a lovely scripty wedding font but alas, my printer decided to die on me at the last minute and so I was forced to grab the pen and paper and after many attempts I managed a half decent title. The bride loved it so that was all that matters.
At the wedding
Like with my other guestbooks I took pics of all the wedding guests as they milled around at the reception venue while the newly wedded couple got their wedding photos taken. Armed with 7 cartridges of Fuji Instax film and my newly acquired Instax Mini 8, I had plenty of film to cover the 80 or so guests.
I bought my Fuji instax from Ebay along with the film.
I randomly stuck all the instant pics into the guestbook with my three rolls of washi tape. Once they were all stuck in the book the guests were then able to sign and add their own messages with the art ink pens that I bought especially for the occasion.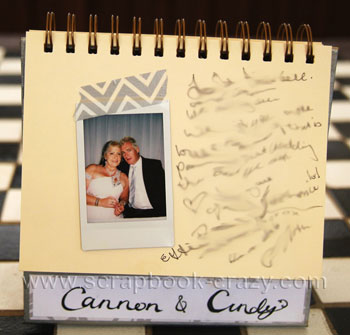 One of the many polaroid photos featured in the instax guest book
Me and my fam in our selfie shot... xx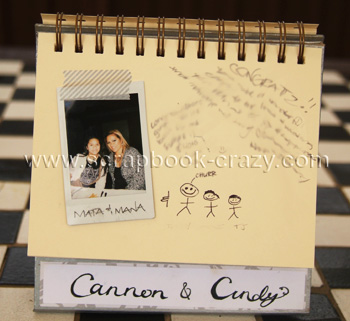 Love this one. Husband and kids were not able to attend the wedding so she drew them in by hand. Too cute.
Once again the guest book was well liked by all the guests and especially loved by the bride and groom. Had lots of fun putting this book together and can't wait to do it again. I must say that I do prefer the fuji instax mini's over the larger regular instant photos or polaroids. they are smaller and cuter and easier to fit into any kind of mini album or book. I would love to know what you think.
You might also like