Chipboard scrapbooking album
'A great product for a scrapbooking album'
Chipboard or book board is a very flexible medium for making mini albums and would have to be my favourite to work with. It is quite sturdy and can be trimmed down to any shape that you want which makes it great for making cool shaped mini albums other than the regular square or rectangular mini albums which are so common. Shape it into a purse or handbag, a heart, a circular album, a word or whatever takes your fancy.
You can purchase chipboard sheets from your local scrapbook or craft store. It is usually a kind of funny grey colour or maybe a light tan colour. If you like you can use the board from your left over cereal boxes which are completely free.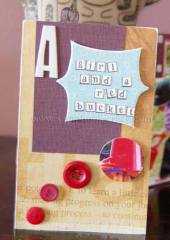 Tips for working with chipboard
When wallpapering your chipboard pages with scrapbooking paper and a liquid medium like white glue or mod podge. Be sure to apply the and spread the adhesive with a foam brush starting from the center using outward strokes.
Use the thickest chipboard you have for firm extra strong album covers.
Thin chipboard is great for inner pages. Cover them with scrapbooking cardstock or patterned card for a firmer page.
Painting your chipboard is a great alternative to covering it with scrapbook papers. You can buy special scrapbooking acrylic paints which contain less water than regular acrylic paints. Less water in the paint means the chipboard will not warp and buckle as much when painted. So if you can afford to buy them you should.
A scrapbooking album with strong chipboard covers and bazzill cardstock pages are quick and easy to create.
Matt-board from your local picture framers is a good source of cheap material to make mini books and they are acid free. Just ask for their cutoffs, they might even give them to you for free.
Chipboard mini album tutorials
Free Chipboard Mini Album Templates