Mixed Media Scrapbooking Memory Books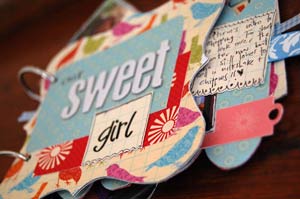 We've learned that scrapbooking memory books can be made from just about any materials that we can think of and they are a lot of fun to make. A mixed mini book takes your mini making creativity to the next level.
With a mixture of different products we can create an interesting album with pages of different shapes, sizes and textures.
Mixed Scrapbooking products
This is a list of items that work well in a mixed media mini album. Randomly select a few to add into your mixed mini album. Some of the items might make for good covers and others for pages. When you have enough to form a minibook then punch two or more holes along the spine of the cover page to bind the album. Using the cover as a template, punch the binding holes in the remaining pages. A crop-o-dile will make short work of this. Take a look at the first mixed media mini album that I made using a number of different items from the list below.
artist trading cards
acrylic or clear pages
chipboard - any shape
cardstock - any shape
canvas
coffee filters
corrugated cardboard
credit cards
envelopes
Fabric
felt
paper bags
journaling spots

library cards and post cards
material
mesh
pockets
playing cards
Plastic
tags
tin sheeting
transparencies
ultrasounds
x-rays
die cuts from paper packs.
Make your own chipboard pages
A fantastic idea is to create your own chipboard pages. All you need is some chipboard, a pencil, scissors and a little imagination. It is a lot easier than you might think. I used a piece of 12x12 chipboard that came in a pack of scrapbooking papers that I had bought online. I hand drew a variety of different shapes varying the sizes of each page for added dimension. Simply cover one side of the page with patterned paper and trim off the excess then repeat for the reverse side. Any rough edges can easily be smoothed off with sand paper or inked for a tidier look.
I have used this technique to create this 5 page memory book of akw at the park.
Arrows
Scalloped frames
Tabbed pages
Fancy frames
Flower
Star
Birdie
Butterfly
Hearts
Houses

Rectangles
Circles
Squares
Tabbed pages
Scalloped pages
Car
Purse
Frames
| | |
| --- | --- |
| Mixed Media Mini book #1 | Mixed Media Mini Album #2 |