Road Trip Scrapbook Mini
Make a cool road trip scrapbook to document your travels
The first time I saw mini scrapbooks made from toilet paper rolls I was hooked! They are so cute, make awesome gifts, and they are the ultimate in recycling!! Besides what else are you going to do with all those empty rolls except throw them in the trash?


This fun little travel scrapbook is still waiting for its true owner; the one that will fill it with memories and photos of a journey, a road trip, a trek across the country or a jaunt to a friend's house.


One of the best things about these mini scrapbooks is that they are a great way to use up some paper scraps and left-over embellishments. This 4 roll scrapbook was made from one 12x12 piece of paper. The paper, from the Me & My Big Ideas line, was a perfect choice because the page had many design elements incorporated in it, which gave me a different look on each page. A couple pages are almost solid while the others are covered in a map or even a car. Fun paper! Inked edges and a variety of stickers, rub-ons, buttons, brads and ribbon finish the project.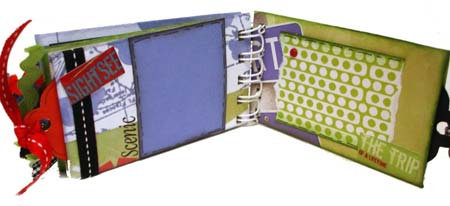 How I made it
I followed the instructions on this website for the basic construction of the scrapbook, with a few exceptions. I iron my rolls flat for a couple reasons: they're easier to store (while waiting for inspiration!) and also by flattening them completely, 4 rolls will fit easily into a ¾" binding. Prior to covering with paper I flex the roll (at the creases) between my thumb and fingers to "fluff" it up a bit. I also used a glue stick to adhere the paper. I find it's much less messy.
By Judy Campos
Sterling, IL
See also
More toilet tissue tube card holder and scrapbook ideas
Toilet roll mini album tutorial
Scrapbook mini album gallery