How To Make a Gatefold Mini Scrapbook
The gatefold mini scrapbook is yet another mini scrapbook being made at the moment and is growing in popularity.
They are unique in that they have two spines that open from both sides. The pages and vary in size (both width and height) so they are fun to experiment with.
This tutorial was written by another fellow scrapper Maria Holder.
Materials:
Patterned Scrapbooking paper
One 6" x 5 1/4" piece of chipboard or heavy-weight card (back cover)
One 8" x 7 1/4" piece of patterned scrapbooking paper (back cover)
One 5" x 5 3/4" piece of coordination patterned paper (inside back cover)
Two 3" x 5 1/4" pieces of chipboard card stock (front covers)
Two 5" x 7 1/4" pieces of patterned scrapbooking papers (front covers)
Two 3/4" x 5" pieces of coordination patterned paper (inside front cover inserts)
six 4 1/2" x 2 1/2" pieces of cardstock,
Two 4" x 5 1/4" pieces of cardstock (accordion fold spines)
Adhesive - double sided tape or glue
Basic scrapping tools, craft knife, paper trimmer, pencil
Step by Step Directions
Step One
Cover the front and back chipboard album covers with the patterned papers, paper, mitering the corners for a clean finish.
Step Two
Create the two accordion spines from the 4" x 5 1/4" cardstock pieces scoring and folding at 1/2" increments across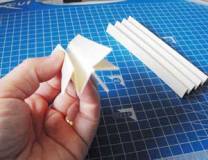 Step three
Take one of the accordion folded spines Line it up with the left edge of the inside of the back cover and adhere it with glue or tape starting with valley fold as per the picture below ( V - valley fold).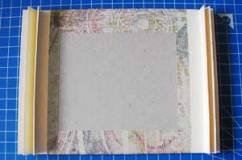 Accordion spines adhered to back cover
Glue the other end of the spine to the inside of the left front cover. Also glue the outside accordion folds together - this will create a sturdy spine that will assist to keep the pages neatly in place. Repeat for the right hand spine and cover.

Both covers attached by accordion spines
To increase the number of pages to be included in the mini book, extend the length of the albums spine and fold 2 extra pleats for each page added.

The back of the accordion folds glued together
Step Four
Take the two 5" x 5 3/4" paper inserts and adhere them to the inside of the front covers over the top of the accordion fold edge.
Do the same with the 5" x 5 3/4" piece of patterned paper and glue to the inside back cover.
Step Five
Round off the two end corners for each of the six flaps and adhere the square end to the book spine spacing them out evenly.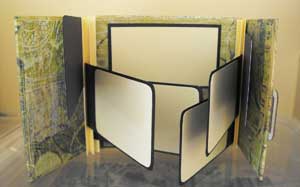 Embellish your mini books pages and covers however you choose.