Mothers Day Scrapbooking Mini Scrapbook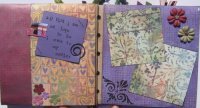 Make your mom a mothers day scrapbooking gift this Mothers Day that she will love. A mini scrapbook album to show her just how much you adore and appreciate her. You will not find a better way to celebrate moms day than with this handmade mothers day mini album keepsake. Choose one of these ideas to create a mothers day gift to be treasured forever.
Some scrapbooking Mothers Day ideas.
Mothers Day Brag Book
A simple brag book filled with photos mums children show her what a wonderful job she did raising you.
A Special Bond
If you have a strong mother - daughter bond then a mini-book memento filled with selected quotes, photos and memories is a perfect dedication for your special relationship.
10 things
10 things I love about you is a quick and easy mini book to create, yet it will be a special keepsake for your mum. The whole family can participate in creating this mini album.
Online Mothers Day Scrapbook or E-card
Smilebox let you make your own free online Mother's day scrapbook
A mothers love is...
enduring, a blessing, unconditional, precious, kind, tender, pure, timeless, special, calming, real, timeless, forever, unselfish, amazing, humbling, inspirational, never ending.
Make a mini book with a page to each of the many wonderful qualities your mother posses.
Chocolates for Mom
Alter a noodle box or some other decorative box and fill it with her most favourite chocolates for a special treat.
Quotes for mothers day
Adding a quote or two is a simple and effective way to enhance your mini album. When you end up with a couple of empty spaces in your book that needs to be filled with a picture or journaling you can rely on finding a touching quote to fill the void. Take a look at the selection of mothers day quotes and sayings that we have chosen espeicially for this occasion.
Mothers Day Mini Albums from the gallery
Covers and Titles
A mothers Love

Unconditional Love

10 things I love about you (we love about you)

To my mum, For my mum

Our mum

A mother like no other

Gentle Inspiration

The hand that rocked my cradle

Mum's the word
Back to see more mini book themes