Little Things Mini Scrapbook

Enjoy the Little Things Mini Scrapbook
Made by Kerry Silcock
Australia
This mini came by way of Scrapbook crazy, I was surfing the net so to speak and came across this wonderful site.and from then on I think the site aptly describes myself as I am now hooked. I have never attempted any thing like this before I had done a couple of traditional scrapbooks pages for family on special events.
I was totally amazed by the toilet roll scrapbooks and as I hate to throw things away thought what a marvellous way to use up those rolls.
My mini is named "Enjoy the little things" and I have made this for a work Colleague, I used 6 rolls and followed the instructions you so clearly described.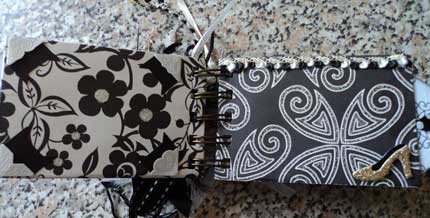 I had some left over paper from a CD album that I also saw on this site and decided to use these papers, I embellished the pages with embellishments bought from different stores but love the Bella ones so much they really catch my eye, I also used packaging plastic from some of the box's that embellishments come in (recycle recycle!)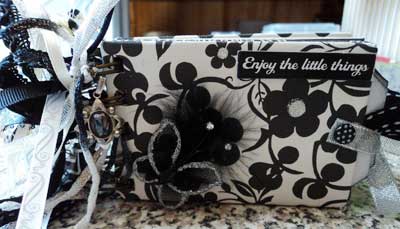 Front cover of mini sctapbook
I used my bind it all which I also found on the web to bind the pages together, and tied ribbons and fibers to the rings and added a small iron ore charm to the front. I used ribbon and brads to close the mini in coordinating silver and black.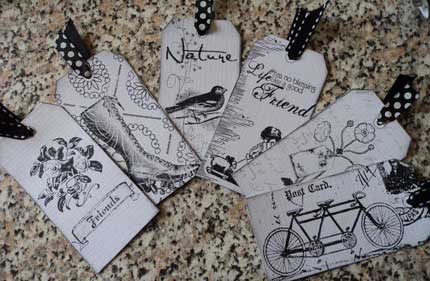 Digital stamped tags
I also used some Seneca Pond tags, Cottage Chic digital stamped tags and re sized them to fit the mini, I popped a ribbon through the tag to embellish, and inked the sides of the tags.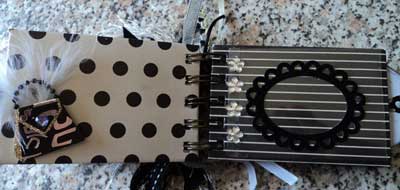 I am so pleased with this mini and this is my third toilet roll mini and my favorite.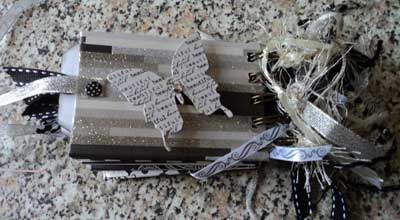 Butterfly cut out embellishment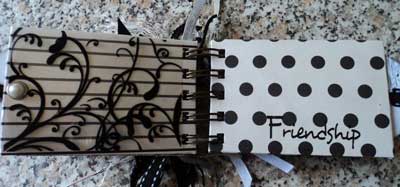 Celebrate friendship
The title was from a Bella inspirations collection and i thought this described this mini so aptly.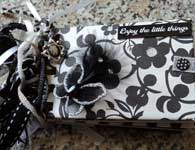 Photo page and journaling page
Join in the fun and submit your own Mini Scrapbook here
Back to the mini album gallery
Return from Summer scrap mini to HOME