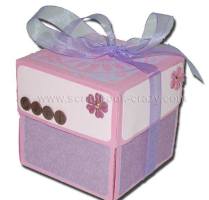 Explosion Box Album Instructions
This explosion box album is a real little cutie. The end product is a 4x4 square shaped mini album in a box which opens or explodes into a cool little album when you take off the lid.
Just like with the altered noodle box your explosion mini album can also double as a gift box. Fill it with lots of photos, pop in a small present and present it to the recipient who will be sure to love both the gift and the pics.
A baby themed box would be great as a baby shower gift or new born baby gift with a little baby onsie or a pair of hand made booties tucked away inside it.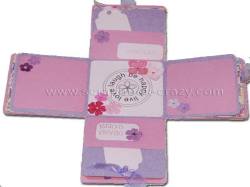 Materials
The basic bones of this album is only 4 12x12 sheets of cardstock + embellishments as you desire.
4 Sheets of `12x12 cardstock (the thicker the card the sturdier the box)

Paper trimmer or craft knife and metal ruler

bone folder

Adhesive

Pretties...
The box
1. Take your 3 sheets of cardstock and trim them to size as per below:
Bottom layer (box) - 12" x 12" (thick card stock like bazzill linens are preferable for strenth)
2nd layer - 11" x 11" (Ok to use patterned scrapbook cardstock for these 2 layers)
3rd layer - 10" x 10"
2. Now score 4 folds on each card layer as per the measurements and diagram below.
Score the Bottom Layer 4" in from the sides
Score the 2nd layer 3 ¾" in from the sides
Score the 3rd layer 3 ½" in from the sides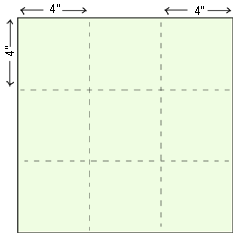 3. Cut out the corners from all 3 sheets. They should look like this when they are layered on top of each other.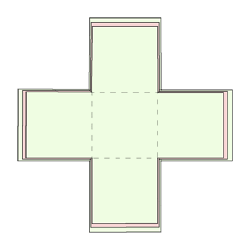 4. Embellish each of the four side panels on all three sheets as you wish. You may embellish both sides of each panel or just the top sides. Create pockets for tags, photo matts, use quotes, ribbon, brads etc. Adhere the bases together when you have finished embellishing the box.
The Lid.
Trim a the last piece of cardstock for the lid to 8"x8". Score folds similar to the first sheet above at 2" from each side. Do not cut the corner squares at this stage.
Score four more diagonal folds as marked in the diagram below. Fold each corner up and adhere to the side to form the lid. Embellish as desired.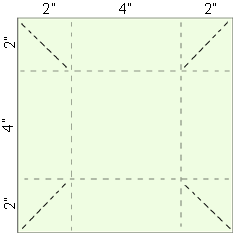 Examples of the lid folded and with the sides glued down.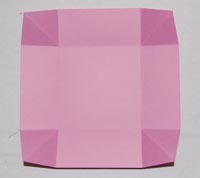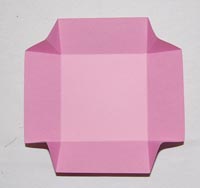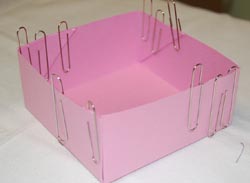 Return from explosion box album to home