Make a Mini Easter Scrapbook
An Easter scrapbook is a wonderful way to preserve your holiday memories. We hope these ideas make your Easter mini book a breeze to make.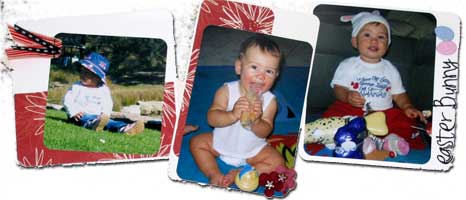 Long Weekend Getaway
Easter weekend is one of those long weekends that we all look forward to. Often we take off for a few days of hard earned rest and relaxation. A few days reprieve from the everyday toils of our lives. You might choose to simply collate the photos taken on your long weekend holiday into a cute little mini book.
At Home Easter Mini Album
While not all of us are fortunate enough to take advantage of a long weekend holiday there are lots of special moments that we encounter at home. Keep your camera handy to take pictures of those these moments and scrap them into your album. A little preparation will ensure you have lots to keep your camera snapping , some ideas for the perfect Easter photo.
The Easter egg hunt in your backyard or local park

Family dinner or lunch

Ripping into your Easter eggs

Picking flowers and all things Spring

Colouring Easter eggs or other crafty activities

Celebrating Mass

Photos with the Easter bunny at the mall

Bunny ears on children

Spring Picnic
Babies First Easter
Is it babies first Easter. Be sure to take a picture to include in your babies firsts mini album. You can take lots of photos to make a separate Easter album for baby maybe you can make a bunnies and chicks and Easter eggs and flowers scattered through it. Pop some bunny ears on to babies head and capture the moment.
Choose your Shape - an egg or a basket
For some extra flair you might want to steer away from making a regular 6x6 or similar mini album. Think of some shapes that you can associate with the Easter season and incorporate them into your album. Some shapes you might want to consider include:
Basket shaped mini album - something like a purse album with handles

Egg shaped mini book - Cut 6 or so Egg shaped pages from chipboard or firm cardstock and bind it with a loose leaf binder ring, ribbon or fibres.

Make a 6 page name mini album with the Letters E, A, S, T, E, R. To extend the album by 2 pages add the numbers for the year (07, 08 etc) To extend by 3 pages add the letters F, U, N for fun.

Turn a round or oval cardboard gift box or tin into a mini Easter basket by altering it with patterned papers and embellishments and fill it with tags for photos or journaling.

Egg shaped tags would work well with any Easter mini book.
Easter Scrapbook Title Ideas
EASTER

E is for Easter

Easter memories

Easter Fun

Our Easter fun

Hunting for chocolate

We love Easter OR We heart Easter

Easter 2007, Easter '07

Eggs in a basket
Add Easter Quotes
Don't forget that you can always add an Easter quote or poem to add a heartfelt touch to your album. Have a happy chocolate Easter Egg!!