Altered Gift Box
Great for Valentines Day
My latest project is an altered gift box made from a food pail or takeaway noodle type box. I got the idea from a very cool valentines day project on the Simple scrapbooks website. You basically just grab a gift box from your local craft or dollar store (Spotlight for you Aussies), paint it and embellish with patterned paper and lots of pretties and then fill it with your partners favourite chocolates. Very simple yet an extra special gift because of the thought and effort it requires to make it.
So valentines day has been and gone and here is the end product. I tried to find some chocolate peanuts to fill it with but I had to settle for scorched almonds...
Holidays and birthdays
You don't have to wait for valentines day. You can use this gift idea for any holiday or birthday including mothers day, fathers day, and Christmas. You can even paint it up in baby colours, pop some knitted booties in the box and present it to a new mother to be as a baby shower gift.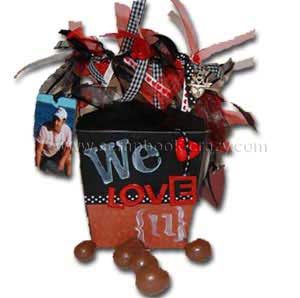 supplies
noodle box or food pail - this one has a metal handle
black acrylic paint
red patterned paper - chatterbox
adhesive
lots of ribbon (I bought all this ribbon from Spotlight dirt cheap - 1.99/5m roll - bargain!!)
Making Memories foam stamps
chipboard letters
chipboard tags and hearts
metal charms
Heart button
Chocolate!!!
Instructions
Paint the box black - you might want to give it a light sanding to make the paint stick a little better.
Cover with a light coating of modge podge to seal it (optional)
Trim a piece of patterned paper to cover the bottom of the front panel and attach with glue or double sided tape.
Trim a length of ribbon and attach it to the front separating the top half from the bottom.
Stamp and adhere chipboard words onto the front.
Adhere a photo to a chipboard tag and trim the edges. Tie it to the handle with a length of ribbon.
Tie a charm or two with a length of ribbon
Tie lots of different patterened red, black and white ribbon around the handle for a very cool effect.
Fill with yummy chocolate.
Hot tips.
The chipboard i used was raw. I intended to paint or ink it but didn't have either in red. Instead I found one of my daughters red colouring in pens and coloured the letters with it. I then used glossy accents over the top to glam it up a bit.

I bought all these ribbons cheap cheap from Spotlight(Aussie) They have a fairly good range of ribbon now. check it out.
Return from altered gift box to see some more cool projects
Let me know if you have seen a great valentines mini album project to share