Mothers Day Scrapbook Gift
A Mothers day Scrapbook by Tracy
I made this mini-album for my mother for Mother's Day, using Cricut Design Studio. I used the square from George and the Base Camp font.

I cut the pages out of cereal boxes! These are about 4x5. Then I cut the designs again out of patterned paper to cover each side. (The paper is heavy and embossed.)
I cut the shadowed letters out of cereal boxes as well, and used a shiny, pearl pink paper to cover.

I painted the edges of the pages and letters with pink paint, then went back over that with a pearl glaze.

Once the paint was dry, I punched the edges with my Bind It All, and bound with a 1" antique brass o-wire. Before binding, I inserted the crocheted doily, some mulberry paper, and a couple of torn vellum sheets.

I looked up some mother-related quotes and printed them out. I cut into small squares, inked the edges and adhered some to each page, along with flowers, pearls, etc.

Tracy Moniz
Dacula, GA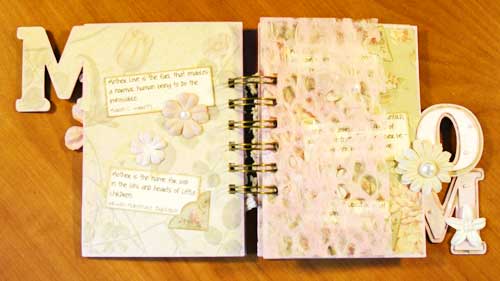 Mothers Day mini scrapbook open with a couple of lovely Mom quotes

Flowers with pearl centers scattered throughout the mini book adds a special touch.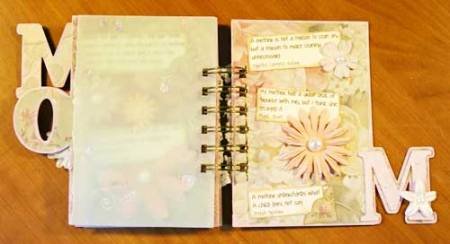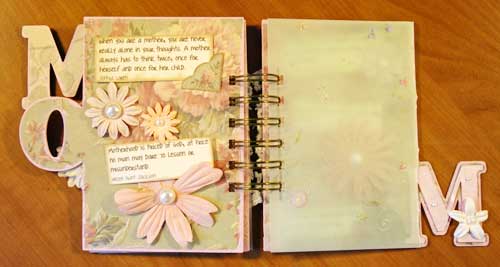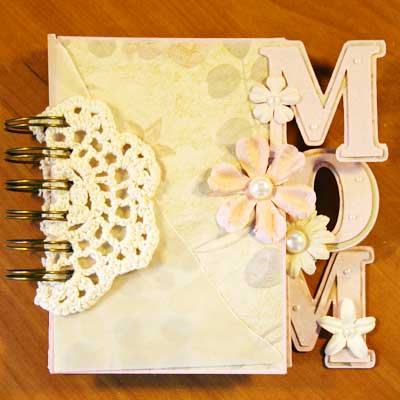 A crocheted doily has been added before binding with the bind-it-all
Thanks Tracy for sharing your mini scrapbook gift. If you would like to submit you latest Mothers Day mini book you can do so via the submission form. Your album will be featured in our mini album gallery. Each submission is also automagically entered into the next mini album competition for a chance to win some great prizes.
Back to the mini album gallery