Altered Clipboard
" An altered clipboard is such a fun and off the page project"
Transform your cheap as chips clipboard into a great gift with this little tutorial. There are many ways to alter your clipboards. This is simply one way to create a photo frame to display on your mantle and taking advantage of the Clip to enable us to change the photo every couple of months or so.
Scrapbooking Supplies
A Clipboard
Acrylic Paint
Foam Brush
Modge Podge or an acrylic sealer
Scrapbooking Papers
Plate holder or frame holder
Chipboard letters
Ribbon and fibres
Paper trimmer, craft knife etc
Lets Get Started
Apply the acrylic paint with a foam brush to the entire surface of your clipboard. If you will be covering most of the surface with patterned scrapbooking paper then apply the paint to the outer edges.
Trim your papers and arrange them on your clipboard. When you are happy with the layout then adhere the papers to your clipboard with mod podge.
Once it has dried apply two or three coats of mod podge to the surface to seal it. Allow enough time for each coat to dry properly. The more time you allow to dry the better.
Now all we have to do is add the photo and adhere some chipboard letters to spell out a name or sentiment. Keep in mind that the photo will be on the side where the clip is.
Tie on some ribbon and fibers to the clip to give it some extra flair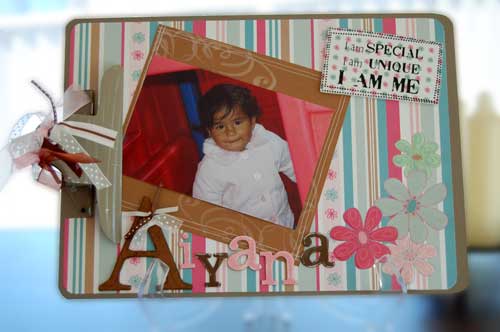 Another Kelly altered clipboard (mine is still coming...)
More Scrapbooking Clipboard Ideas
Don't limit this great technique to a photo frame holder. Try one of these variations on the clipboard theme.
Notes
Teachers Clipboard - not too lumpy bumpy so that it remains functional. This would make a great end of year gift. The same could apply to a team coach, just make sure that it is properly sealed so that it can take a few knocks.
Use blackboard paint to cover the entire surface.
Create a small clipboard stand for your desk to hold your post-it notes, a matching pen holder would be so cute.
Switch the photograph for a Calendar.
Make an advent calendar.
paint the clip
As always the possibilities are endless.....
If you would like to share your altered projects with Scrapbook Crazy then you can do so using our submission form. All Submissions are automagically entered into the next mini competition.
Back for more groovy scrapbooking projects