Scrapbooking Pregnancy Quotes
A small selection of fantastic scrapbooking pregnancy quotes.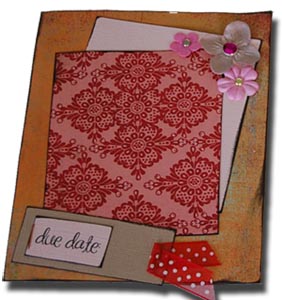 Before I formed you in the womb I knew you
Jeremiah 1:5
A mother's joy begins when new life
is stirring inside...
when a tiny heartbeat is heard for the
very first time,
and a playful kick reminds her that she
is never alone.
- Unknown
Life is tough enough without having someone kick you from the inside." - Rita Rudner
Before you were born I carried you under my heart. From the moment you arrived in this world until the moment I leave it, I will always carry you in my heart.
- Mandy Harrison
Before you were conceived I wanted you
Before you were born I loved you
Before you were here an hour I would die for you
This is the miracle of Mother's Love.
- Maureen Hawkins

Make a Pregnancy Scrapbook mini album or Pregnancy journal
Create a special one of a kind mini album scrapbook for the new mother to be to record some of the most precious moments throughout her pregnancy.
Pregnancy is a kind of miracle. Especially so in that it proves that a man and woman can conspire to force God to create a new soul.
Robert Anton Wilson
I begin to love this creature,
and to anticipate her birth
as a fresh twist to a knot,
which I do not wish to untie.
Mary Wollstonecraft
By far the most common craving of pregnant women is not to be pregnant.
- Phyllis Diller
Think of stretch marks as pregnancy service stripes.
- Joyce Armor
I gained 80 pounds for my pregnancy so this is like my coming out party.
- Cindy Margolis
Pregnancy is a disease from which you recover in 18 years and 9 months. ~Carrie Latet
If pregnancy were a book they would cut out the last two chapters.
- Nora Ephron
Babies are such a nice way to start people.
- Don Herold

Pregnancy paper bag mini album