Pregnancy Paper Bag Album
This Pregnancy paper bag album I made for my friend was made with the Basic Grey Blush range of scrapbooking papers. The font I used for the title tags was MASexy which you can download for your own personal use here (thanks to the talented Margarete Antonio) The phrases and pregnancy scrapbook quotes were all printed directly on to plain bazzill cardstock then trimmed them down to size and adhered to the pages or to the handmade tags.
The tags were all cut from left over scrap pieces. As with nearly every mini album I make these days, there are a few prima flowers scattered around here and there.
Here is a list of ideas that you can use as a guideline to make your own themed
pregnancy scrapbook. If you have anything that you would like to add be sure to let us know.
Related Mini Album Links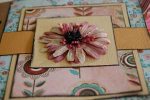 Due Date:

Space to note down the babies due date + photo matt for a before photo, pre baby.

Step away from the food:

Document on each tag your cravings and food that makes you ill

My Body's changing:

9 moths of weight gain to keep track of plus maybe belly circumference

First Glimpse:

A tag tucked away in a pocket to hold the ultra sound photo

Girls names:

If its a girl...

Boys names:

If it's a boy, Every pregnancy journal.needs to records those names that made the cut...

There is love in my belly:

a must for this pregnancy scrapbook. A photo matt for mum with the big tummy
My wish for you: a fold out to write down your hopes and dreams for your baby

Love notes:

more space for mum or dad to record your feelings etc. use the pockets in the paper bag album to hold more journaling tags.

The baby shower:

a pocket for either a photo or some baby shower cards, maybe even to hold little wishes for baby written by all whom attend
Return from this pregnancy paper bag album example to pregnancy mini album themes