Baby shower paper bag album
I made this baby shower paper bag album for my friend Tamara. Of course she had to go and be difficult by not knowing if she was pregnant with a boy or a girl! So no run of the mill blue or pink album themed mini album for me.
Related Mini Album Stuff
I had to use gender friendly papers which I soon discovered isn't really that easy to do. Luckily enough I found a stash of Basic Grey Lily Kate papers with lots of muted greens, yellows, purples, blues and pink.
As it turns out she had a brand new baby boy, Jacob (March 2007)
Brand New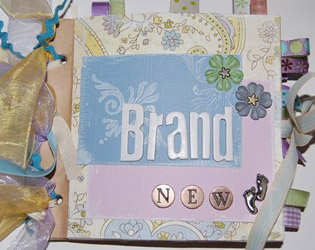 Front Cover - OK, so I titled this mini album 'Brand New' because, well babies are brand new and also I had the letters left over from a pack of Heidi Swapp chipboard alphas to spell the word 'brand'. I used Prima Flowers of course, they're like my scrapbook staple - I have em with every project. MM foam stamps, pewter alpha letters and mini flower brads. Those cute little feet I bought on ebay 2 or 3 years ago!!! Finally using them (I'm a major hoarder of pretties)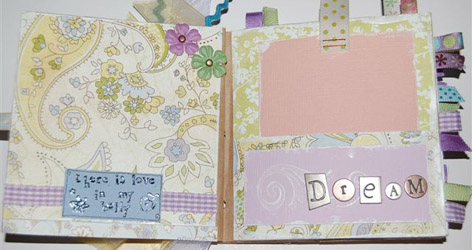 There is love in My Belly - The perfect phrase for a pregnant mama shot, hopefully minus the swelling feet and flushed face. I stamped the text onto a piece of scrap bazzill, drew some swirlies on it and gave it that embossed look with the glossy accents.

Dream - Tag in a pocket page using Making Memories alphabet charms a tag and some ribbon. Picture of sleeping baby to go here.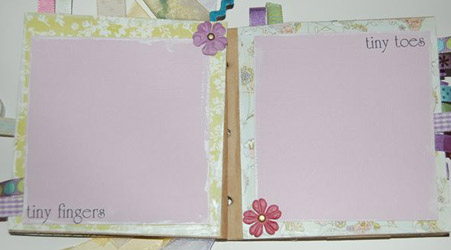 Tiny fingers and Tiny toes - I had some rub-ons with these two phrases on it. Just perfect for either photos of babies fingers and piggly wigglies OR Tam can slap a bit of paint on lil Jacobs hands and stamp them directly onto each page.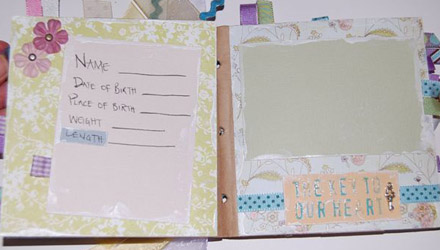 Baba Stats - Basic stats are a must have. You can be as creative with it as you want. I thought perhaps i might do a check list questionaire as a bit of a laugh for the next one. Something like 'weight: tiny, average, or OMG!!!' lol :)
The key to our heart - A mushy rub-on phrase glamed up with some glossy accents on a scrap of bazzill. I used one of my half a million tiny key charms as the perfect accent to this page.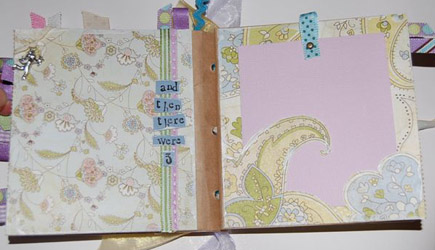 I missed a page here. There are two pages before these two. One was titled 'MUM' the other 'DAD' Both had a plain bazzill photo mats and were intended to have a photo of Tam and Richard on it. Then you turn the age to 'And then there were three' Very sweet.

The last page is a pocket with a tag for a photo of baby or family shot or whateva...I think i would use a baby pic here.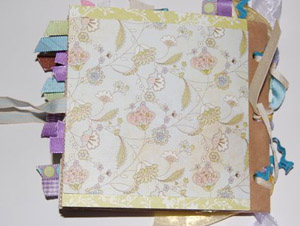 Back cover - Plain and simple, a nice baby quote always goes good on the back cover...something to think about for next time.
Secret pockets - Each of the photo mats also double as a pocket to slip in a tag with some extra photos or perhaps some journaling. I had in mind that Mum and Dad could both jot down some of their initial thoughts and feelings on the tags when the baba was born. These are always good to look back on in the future.
Back for more paper bag album instructions