Make an Acrylic baby scrapbook album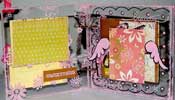 This Baby scrapbook was made with 5 clear acrylic sheets. All the tags and pages were stamped with pink acrylic paints for plastic - these paints are designed especially to use on plastic and glass surfaces. They dry within 30 mins and then cure within 24hrs. I raided my scrapbook supplies for a couple of scrapbooking pens that would work on the acrylic but in the end I wound up using a sharpie - permanent marker.
The photo mats were machine sewn around the edges to add some dimension to them and they came up great. The mats were lined up and carefully taped to each of the clear pages back to back to prevent the ugly adhesive showing through.
For more information on making your clear mini albums be sure to check out the instructions to make your own here. There are a few tips and a list of clear album friendly scrapbooking products that you might like to use.
Scrapbooking Pens
It is a good idea to have a range of good scrapbooking pens for various different surfaces. I have used a black permanent marker for some of the artwork on this album that have been drawn directly on to the clear acrylic pages.
Products Used
Crate paper - Twirl range

Stamps, Autumn Leaves, Fancy Pants

Prima Flowers

Black Sharpie, permanent marker

Pink paints for acrylics - Paint Plastic

Ribbon - may arts

Strong acrylic album

Baby scrapbook Front cover - Baby Girl

Hand stamped flourish stamps by Fancy Pants on the back cover

Fold out photo mat

I hand sketched a pair of angels wings onto a scrap of paper then placed the sketch beneath the clear page and traced the outline. I filled it with the acrylic paints.

The angel wings frame the photo mat on the reverse page. A mini accordion album with 5 extra pages for photos and journaling.

The black frame on the right drawn on to the page with permanent marker. simply place the image beneath the clear page and trace the outline.

The edges of the acrylic pages have been brushed with the pink plastic paint for extra dimension.
Clear mini albums, permanent scrapbooking pens and plastic paints work really well together. If you don't have access to plastic paint or even glass paints then you can try making your own glass paints with glossy accents.