Barbara's My Life Mini Album
The Facts of My Life Mini Album. By Barabara Oros (a winner of our July competition)
I saw a lot of acrylic albums on the 2peas website and decided to try one. I couldn't think of another subject, so I decided I would make it about me since I recently retired at the age of 69.
How to make an acrylic album
I found 8 x 10 sheets of Plexiglas at Lowe's for $1.58 each. My husband had the proper saw to cut them to 8 x 8 ½ inches (leaving the ½ for holes). He also rounded the right corners with a sanding tool. Each page is a portion of my life and the highlights of each. I used mostly black and white pictures and therefore stayed with black and white embellishments.
Scrapbook products used to embellish mini album
I used are Hambly overlays, rubons, Stazon ink, Stampin' Up stamp, metal rings from Office Depot, ribbons (Michael's) and glue dots. The most difficult part is trying to match pictures on each side of the page so there's no white showing. I attempted to cover these spots with rub-ons or stamps.
I've seen several albums where people chose to cover the acrylic with paper. To me, that defeats the "see-through" look of the album. I enjoyed making this first one and would like to do more.
Barbara Oros
Carrollton (Dallas), Texas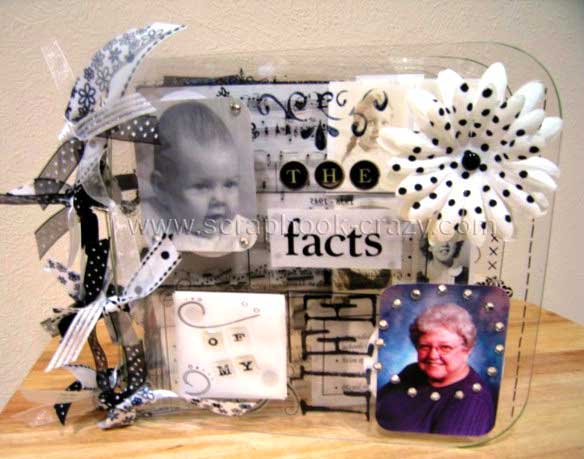 The Facts of My Life mini album cover - a photo of barbara as a baby and now all grown up!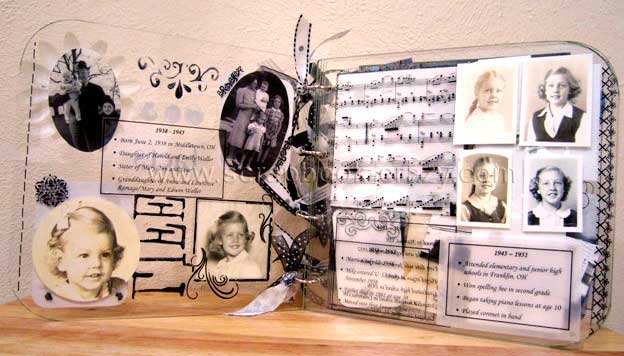 More photos of Barbara and her family growing up. the small journaling spots reveal facts about Barbara through out the various stages of her life.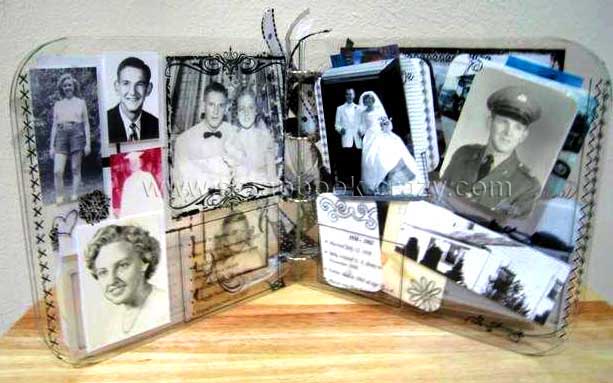 Barbara as a young woman. In love, and married to that handsome man in uniform! Top marks to hubby for the fantastic job trimming and rounding the corners of the acrylic album. I have to make acrylic albums myself!
How gorgeous. Beautiful photos of Barabaras children. So Cute.
Photos of the family home.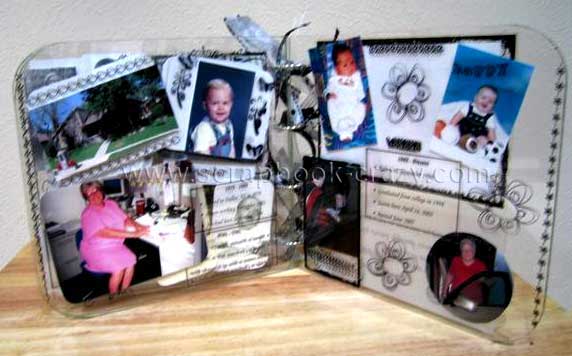 Barbara as a grandmother.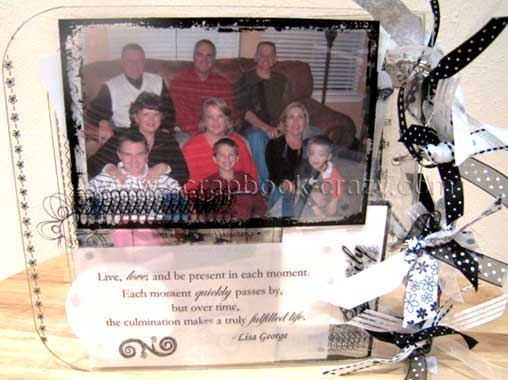 Family Memories
Thank you Barbara for sharing your beautiful acrylic scrapbook with us. If you would like to share your mini albums with Scrapbook Crazy then you can do so using our submission form. All Submissions are automagically entered into the next mini competition.
Make your own clear mini album
return from "Barbaras my life mini album" to the mini album gallery