A to Z Hybrid Scrapbook Album
Another My mother, Velma Balint, and I made this cute little chipboard ABC mini album to show you how you can quickly make a mini with CropMoms Quick page backgrounds. (I really enjoy looking at the mini albums on your site). This is a hybrid scrapbooking project, mixing both digital and traditional scrapbooking.
Products used:
CropMom online scrapbooking website

Animals A to Z digital scrapbook kit

6" by 6" chipboard

1 inch book rings

chipboard ABC hang tag.
Method:
Step 1.
We gathered 26 photos of my son, each representing a letter of the alphabet. We uploaded them to the online scrapbooking site CropMom. Then we used the quick page backgrounds in the Animals A to Z digital scrapbooking kit to create 26 pages, one for each letter of the alphabet. We then created the front and back covers. We used the 8" by 8" canvas size for all of our layouts.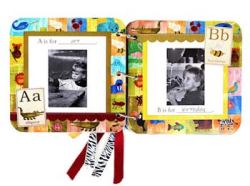 Step 2.
After purchasing and downloading the layouts as print-quality JPEG files, we had them printed as 6" by 6" prints by a local photofinisher. (You can also print the layouts at home, reducing them by 20 percent so that they end up 6" by 6" in size. Use matte photo paper.
Step 3.
Use acid-free spray adhesive to glue the prints to the front and backs of 14 pieces of 6" by 6" chipboard. Use scissors to trim any excess from the prints. Sand the edges lightly using sandpaper.
Step 4.
Punch three holes on the left side of the chipboard pages and add the 1-inch book rings. Decorate the rings with tied ribbons.
We printed another page and used it to cover a chipboard ABC hangtag, which we attached to one of the book
rings using a ball chain.


Enjoy your mini album!
Kathryn, CropMom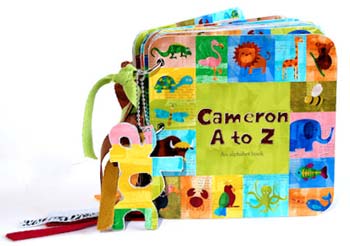 Related Mini Stuff
Interview with Cropmom
Another CropMom hybrid scrapbooking project
More online scrapbooking inspiration