Cropmom Digital Scrapbooks
While trying to figure out the hype about digital scrapbooks, I recently came across Cropmom.com on my internet scrapbooking travels and was pleased to find a free service that was actually pretty easy to use. I am not a digital scrapbook fan myself, not because I am opposed to it, but because the ten million other hobbies including regular paper & scissors scrapbooking I already have just don't allow me the time. So finding a site where I was able to create free scrapbook layouts without the hassles of having to download any extra software, learning to use said dreaded software, search the internet for scrapbook kits that are free and look good (which I found out takes forever!) was right up my alley.
After realizing that Cropmom is 'frugal scrapbooker' friendly I found I wanted to learn more about Cropmom so I approached Kathryn the creator to see if she would like to participate in an interview to tell us a little bit about her funky new service. Of course she agreed and also offered to throw in some freebies for some lucky Scrapbook Crazy readers, details of which are at the end. So here goes...
Interview with Cropmom's Kathryn Balint
Can you tell us about Cropmom
CropMom is an online scrapbooking Website that lets anyone to create digital scrapbook pages using their photos. Just register for free, then upload your print-quality photos. CropMom's scrapbook builder lets you drag and drop your photos onto the canvas size of your choice. You can choose from more than 4,000 digital graphic elements to add to the scrapbook pages you create at CropMom. You can also add your own text. After you've saved your layout, you may purchase the print-quality JPEG file to print at home or have printed by a photo service. CropMom lets users download the screen-quality JPEG file of their layouts for free for e-mailing to friends or posting on the Web.
What inspired you to create Cropmom
I discovered digital scrapbooking a little more than five years ago. My friends were wowed by my layouts. But many of my friends either didn't want to have to spend the money to buy the graphics software needed to create digital scrapbook pages or they didn't want to invest the time to learn how to use the software. I decided to create easy-to-use online scrapbooking software that would make it easy for anyone to create digital scrapbook pages without a large investment of time or money.
How is Cropmom a good tool for a frugal scrapbooker
CropMom is one of the least expensive ways to create digital scrapbook pages. The software and the graphics are free to use. Users pay only for the high-resolution, JPEG files and the cost of printing them. CropMom charges $1.79 for one downloadable layout and offers packages of credits so that users can purchase up to 20 layouts for less than $1 a layout. For anyone who wants to try digital scrapbooking or hybrid scrapbooking, which combines both digital and paper scrapbooking techniques, CropMom makes it affordable. As I mentioned before, the screen-quality layouts, which contain the "made with CropMom" tag in the lower-right corner, are free to download for use on the Web or for e-mailing.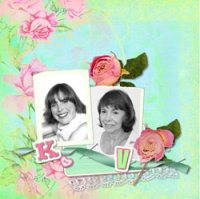 How might we make a mini album gift with Cropmom
My mother, Velma Balint, who helps me run CropMom, and I have made quite a few gifts by having the layouts we've created at CropMom printed by photo services as photo books. In the books, each layout is a full page. We generally purchase 5" by 7" or 8" by 8" books, but we've tried a few 5" by 5" books. With professionally printed photo books, you can make extra copies at the touch of a button. Recently, my mother and I have begun making "hybrid" mini albums using layouts we've created at CropMom and chipboard. In fact, we were inspired by the mini albums at Scrapbook-Crazy. We have our layouts printed by a photo service (although you can also print the layouts on a home print), then adhere them to 6" by 6" or 5" by 7" chipboard. We've added everything from rhinestones to ribbons to our chipboard mini albums, creating adorable gifts for birthdays and holidays.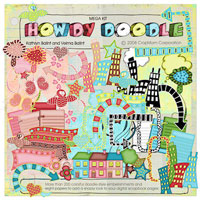 Where do you get all the fabulous designs
My mother and I have designed almost all of the digital scrapbook graphics for CropMom. We had some help on our Halloween Fun kit from digital scrapbook designer Janna Billman. We particularly love the doodled and altered art-style graphics but we try to offer a variety of designs. By the way, my mother and I continue to sell our digital scrapbook kits at our other Website, KB and Friends, for digital scrapbookers who already have graphics software.
What are your most popular themed kits
Based on the layouts in the CropMom gallery, I would say that Bloomin' Crazy, a digital scrapbook kit with stitched flowers and birds and painted and collaged background papers, is the most popular kit at CropMom, followed by Romantically Inclined, which offers a mix of modern and vintage-style graphics and background papers decorated with roses. My mother and I have our own favorite: Offbeat Artistry, which comes with a stitched felt owl, doodle-style word art and fun, collaged background papers.
How would I go about making a hybrid mini book for my coffee table
To create a hybrid mini album using CropMom
Register for free
Log in and upload your photos.
If you're making a 5" by 7" sized album, choose the 5" by 7" canvas size.
If you're making a small square mini album, such as 6" by 6", choose the 8" by 8" layout size (you can reduce the size when you go to print it).
Drag and drop photos and your choose of graphics onto the canvas, then add your own text, if desired.
Make as many layouts as you desire for your album,
Then purchase the print-quality JPEG files of your layouts and download them.
You can print your layouts at home on matte photo paper (reducing to the desired print size, if necessary) or have your layouts printed by a photo service. RitzPix at http://www.ritzpix.com and Scrapping Simply at http://www.scrappingsimply.com offer 6" by 6" prints, and almost all photo services offer 5" by 7" prints.
Use acid-free glue to adhere your prints onto chipboard, then sand the edges.
Punch holes in the chipboard pages then add book rings to hold your book together.
For a truly hybrid scrapbooking project, you can add rhinestones, glitter, ribbon and other embellishments to your pages.
Other than making scrapbooks what else can you do with Cropmom
A lot of our users make personalized greeting cards at CropMom using the 5" by 7" canvas size. Some print their cards at home; others have a photo service print their layouts on the cover of a 5" by 7" photo card. Some users of CropMom create digital art that they then can then print and frame to hang in a room. Particularly cute are personalized posters or prints for a child's room.
What is your advice to a first time cropmom user
Here are a few tips:
Take photos at the highest resolution your camera allows then use those photos in their layouts at CropMom. High-resolution photos look crisper and clearer in print.
When framing a photo on a layout, make sure that you put the photo on a layer below the frame. This is easy: just select the photo and click the "move back" button repeatedly until the photo moves to a layer below the frame.
And, finally, if you want to print your layout, purchase the print-quality layouts because the free screen-quality layouts don't look good when printed.
What can we expect to see in the future
We add at least one new kit at month to CropMom, and, periodically, we add new digital scrapbook elements and papers to existing kits at CropMom. This fall, we're planning some layout contests. Finally, we're hoping to add more features to our online scrapbooking software later this year.
Thanks Kathryn! If you would like to learn more or give it a test drive visit Cropmom, and Kathryn's blog Cropmom Chronicles.
Win free Cropmom Credits
For a chance to win free print credits to make your own mini scrapbook with Cropmom.com, go to this scrapbook-crazy blog post and tell us the answer to the following question.
What is Cropmom's most popular themed scrapbook kit?
Competition ends Aug 27 2009 at midnight. Two winners will be randomly drawn and will receive 10 Cropmom credits each. Be sure to leave your name and a valid email address so I can send you your prize if you win.
Good luck!
Related Mini Stuff
An A to Z Hybrid Scrapbook
More digital scrapbooks inspiration.
My Cropmom mini scrapbook with tips to make your own