CD Holder Mini Album Instructions
Turn your old cd holders into a cd holder mini album. Just when you thought that all they were good for was for holding your cds or mailing them...
This is a great little project and heaps of fun to put together. My first cd book was made with a couple of pre-cut cd holders and a piece of bassill cardstock to connect the two together. I have since tried to find these cd holders but have had no such luck. They were made from thick card which made them perfect for a mini book.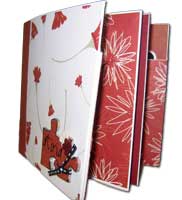 After much stuffing around with measurements I have written up a basic cd holder template that can be cut from a 12" x 12" piece of cardstock. Bazzill is an good choice of cardstock to use but anything that is reasonably thick and easy to work with will do fine.
Update
Thanks to Jackie for sharing this link to purchase these CD Literature Folders from Uline in the US.
Supplies
-3 sheets of 12" x 12" cardstock or patterned card
-Metal ruler
-Cutting tool or craft knife
-Adhesive (glue and double sided tape)
CD Holder Mini Album Template

1. Assemble the two cd holders so that they resemble the image here. Both both bottom flaps fold up and are attached by the three tabs with double sided tape or glue.
2. Take the third piece of cardstock and trim it to 10¼" x 5"

Score the sheet 5" in from both sides. Fold the sheet to form the middle cardstock pages.

3. Apply double sided tape to the four sides of the middle cardstock pages as pictured here.

Middle cardstock pages

4. Apply double sided tape to one of the cd holders as pictured.
5. Stick the three pieces together to assemble the cd mini album

6. Trim a piece of coordinating cardstock or scrapbook paper for the spine to 5" x 2½". Cover the entire back of the spine piece with wide double sided tape. Carefully adhere it to the spine of the album. If you want to cover the entire front and back covers with patterned paper you should do this first, then apply the spine piece.

Embellish as you see fit.


Completed cd mini album
In the Gallery

CD Cover Mini Album
This is an example of the CD mailer mini album that I made using these instructions provided here. I used papers from the Chatterbox line and a funky altered jig-saw piece embelly on the front.