CD Cover mini album of Atiria

"I love this Cd cover mini album - who would've thought"
This is a mini album of Atiria with photos taken during her first year. Made with two cd holders and a piece of bazzill cardstock to create and extra copule of pages. I have covered it with co-ordinating chatterbox papers which I don't think are available anymore. It is a fairly simple 6 page mini album with pockets on four of the inner pages to hold tags (these pockets would normally hold cd's) I took these photos before it was fully completed so some of the pages are still bare.

Atiria cd mini album cover. Covered a jigsaw piece and used MM rubons for her name.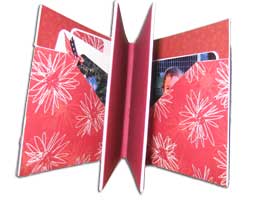 View of the inside of the album

Two tags for the pockets. Akw the fairy girl

More photo tags: picnic day, and some Easter photos. mmmm chocolate.
Back to the gallery for more cd cover mini album inspiration