Family toilet paper roll mini album
Leanne has made this awesome toilet paper roll mini album. What a great way to upcycle some everyday products!
I wanted to create a little mini album for me to have a little something fun to show off pictures of my family. I decided to make my first toilet tissue holder mini! (Needless to say my hubby was quite confused when I asked him NOT to throw the empty tubes away hee hee) Check out our toilet roll scrapbook tutorial to make your own.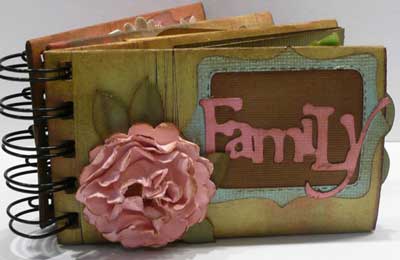 I used four empty holders for my album and utilised my Cricut die cut machine thru out the book to make tags, pockets, and some of my embellishments. I also made the flower on the cover.

Pages 1 and 2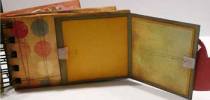 The first two pages are dedicated to me and my hubby. I cut the wedding bands with my cricut and embossed with embossing powder. I added the heart gem to represent a diamond.
1. This page I want to add a pic of me & hubby on our wedding day.
2. The next page I cut the heart also with my cricut and covered with glitter. I used a stamp from Studio G for the Happy Meter. This opens up where I plan to add another picture of me & hubby.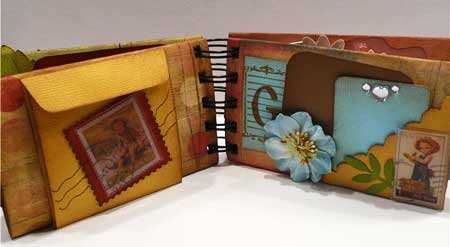 Pages 3 and 4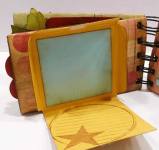 These two pages are dedicated to my son.
3. I cut the little envie from my cricut and plan on added a photo and journaling to this page. The cute little postage stamps are one of my favorite embellishments of the whole album!
4. Some little tags I hand cut to be able to add some photos and journaling.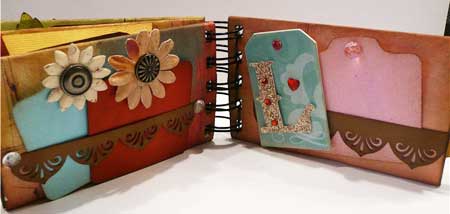 Pages 5 and 6
For the last two pages I'm dedicating to our family pet Cody! Some more little hand cut mats that I can add pictures and journaling. Inside each tube is a tag that has room for photos and journaling.
The tags.
Each tags has been cut with the Cricut machine an embellished with rubber stamps, bling and inked edges.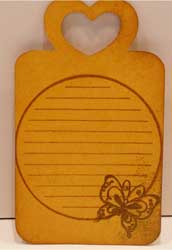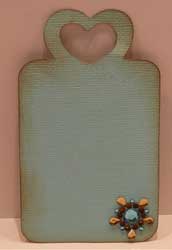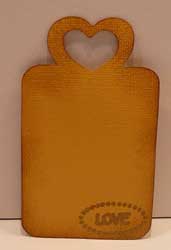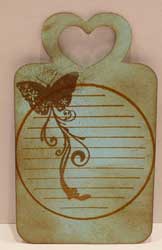 Mini scrapbook back cover
There is more precise details on my blog if you want to take a peek! www.createdbyLeanne.blogspot.com
See also
Christmas toilet paper roll mini album
Toilet roll mini album tutorial
Scrapbook mini album gallery