Xmas Toilet Paper Album
An example of recycled scrapbooking at its best.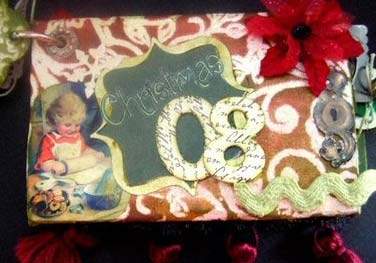 Xmas Toilet Paper Album
Every year I like to make a mini album of our Christmas. When we take out the tree to decorate we go through our albums and look through them and remember the good times that we had previous years. This year I made a toilet paper roll album. Toilet paper albums are great. Recycling is always good and it is so fun to see the look on people's faces when you tell them that they are holding toilet paper rolls as they look through your album. The little pockets (made by squashing the tp rolls)are fantastic for holding journaling and extra photos.
My inspiration for this album started with some yummy flocked paper. I hate to put fuzzy things locked away behind a page protector and it gives such a tactile quality to this little mini. I also used some velvet trim and the trim with fun little tassels. I folded the black lace to give it even more texture.
I had these little vintage looking stickers my mother brought back on a trip from Germany years and years ago. I have a goal on using up things from my stash, so I'm afraid I don't know the brands of a lot of things I used on this.
The photos are printed in black and white and distressed with scissors to add to the vintage feel of the album. I inked on my photos and papers to give it an aged look, and also to add a bit of dimension.
Beate Ervin
Pa, USA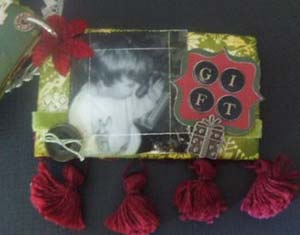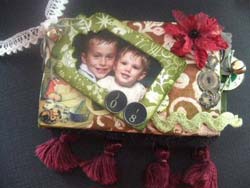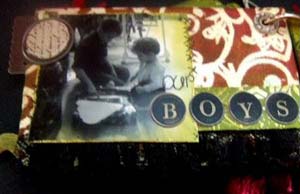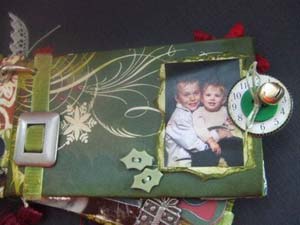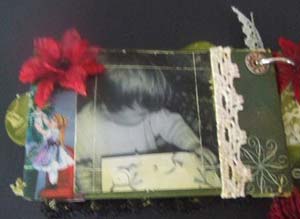 Related Mini Album Topics
Toilet roll mini scrapbook tutorial
Altered Christmas Scrapbooks and handmade gifts
More Xmas Scrapbooking inspiration and examples
Christmas Mini Albums
Tutorials for making Christmas mini books and gift ideas
Return from Xmas Toilet Paper album to HOME