Katherine's Accordion Mini Scrapbook idea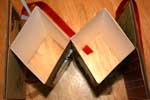 This mini scrapbook idea was generously submitted by Katherine Skinner. You can go and see her original mini album
Mini Album Tutorial
Scrapbooking Supplies
You will need:
Two 5½" x 12" and Two 5½" x 9" paper (Heavy card stock is best)

2 pieces of 6"x6"cardboard or chipboard for the covers

4 lengths of ribbon (you can use 2 different colors if you'd like)

Paper trimmer, adhesive, craft knife, scrapbooking embellishments and patterned papers.

Step 1.
Score and Fold each of the 4 pieces of card stock accordion style @ every 3".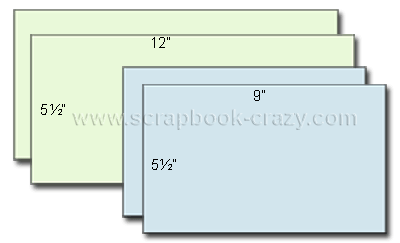 Step 2.
Attach one of the 5½"x12" pages to one of the 5½" x 9"accordion pages.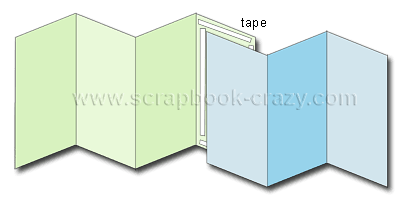 You should now have one long accordion folded strip measuring 18"x5½" long.
Repeat for the remaining two accordion strips.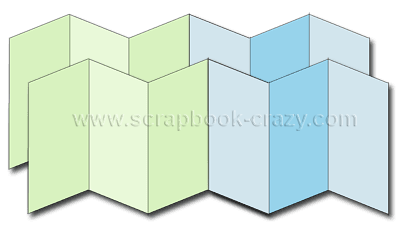 Step 3.
This is the perfect time to decorate and embellish your pages...if you decorate and embellish later, it will be significantly more difficult.
Step 4.
After you are finished with your embellishing- Stand the papers up and arrange them so that they are shaped like a diamond ( birds eye view). In the center of both pages you need to poke 2 hole. Thread a small ribbon through both holes and tie off . This hold the book together in a diamond shape once it is opened.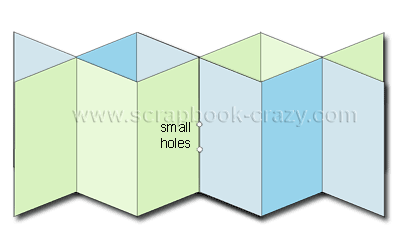 Step 5.
Decorate your covers at this point...you may want to cover them with pretty paper. I usually use a full page of 12x12 paper...just because It works better for me...but for this one you could cut your paper to 8x8" and it will work. I use terrifically tacky tape or glue dots for this and for attaching the ribbon. After you've decorated your covers attach the ribbon ( 2 on each cover, parallel from each other). Glue the front cover ( the same way you would glue the cover on any accordion album), now glue on the back cover.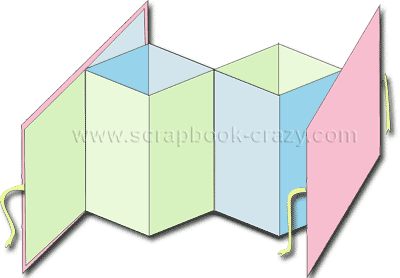 There. You're all finished. :O)
Back to Accordion Album Tutorials