Sweet Summer Scrapbook Tutorial
Written by Michelle Bertuzzi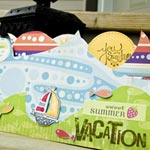 This fabulous Summer scrapbook and tutorial was created for us by talented scrapmom of two Michelle Bertuzzi You can find more mini scrapbooking, crafting and baking inspiration on her blog Jiroken http://jirokenscrapbookcorner.blogspot.com. So be sure to pop by to take a peek.
Materials Needed:
Papers: Cardboard, Cardstock, Patterned Paper

Tools: Punches 1.5" circle, 2" circle, Crop-A-Dile, Color Markers, Jump Rings

Stamps, Ink, Distressed Ink

Embellishments: Cardstock Sticker
Directions
Step 1
Print the templates on an 8 ½ x 11" paper. Trace each page to a cardboard or 110lb cardstock. You can trace as many pages as you need. Cut out the lines and you can re-trace them to a patterned paper of your choice or you can paint or ink the cardstock.
For easier way to make a mini album is to print your photos in 2"x3" (wallet size). You will be able to include more than 1 photo in a page.
Front Page:
I drew another wave shape on another design of paper and adhere it to the base. I stamped on some images directly on to the paper and to a cardstock, color it and paper pierced it. Embellish it anyway you want.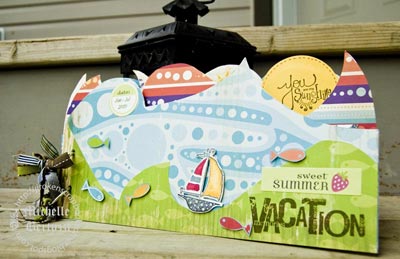 Second / Third Page:
These pages are a combination of adding some cardstock sticker, stamped images.

Fourth / Fifth Page:
You can overlap your photos together. Use some photo corners if you wish to emphasize a certain photo. Stamp a journal image on a cardstock that is contrast to the background paper. The top round page/wave could be transformed into a sun.

Sixth / Seventh Page:
You can add some strips of cardstock sticker sentiments along with your journal. You can re-use same stamps whether by image or sentiment using different colors to create different look.

Eight / Ninth Page:
Circle punches are great to create your own embellishment by stamping images to it or use it as a journaling spot.
Last Page:
Journal Stamps are great to stamp on solid background. You can also punch your photos to create dimension to the page.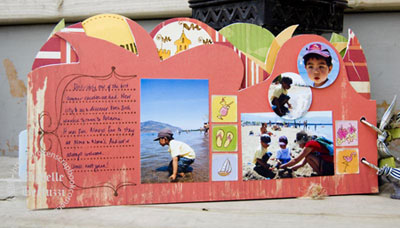 Return from this summer scrapbook to see other mini album instructions