Scrapbook Wedding Guest Book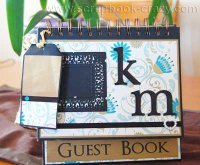 I made this Unique Wedding Guest book for a close friend of mine that got married last year. It is not just your average Wedding signature book. I based it on a great wedding tip that I got from a wedding site and evolved it into this.
Basically I made the guestbook, bought a Polaroid camera off Ebay to take photos of all the guests at the Wedding Reception. At the wedding I took the photos and attached them randomly in the book and asked the guests to sign the book next to their photos.
The end product was fantastic. I was really happy with the way it turned out and so were the bride, the groom and all the guests.
Making the Guest Book
I used a chipboard flip book from 7Gypsies for the book base and a few random embellishments. Each of the pages measure 5x7" and the album stands up so that you can display it on your mantle or book shelf. It also opens up flat which is handy for when it comes time to signing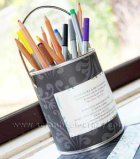 I painted the cover and base with black acrylic paint and covered it with the patterned paper that M and K used for their handmade wedding invitations. Very co-ordinated. I attached a few embellishments including a small black metal embossed frame for a photo of the happy couple to be added later. The tag on the cover read "And so you shall be witness to the first day of our life together"
I also covered this little Prima flowers flower tin with the papers and filled it with coloured pens and pencils for the guests to get creative with. I typed up a few signing tips and attached it to encourage a little creativity.
Taking the photos.
I am usually that person at the party that roams around with the camera taking pictures of anyone and everyone whether I know them or not, but I had never been at an occasion where I didn't know a single person at all. By the end of the night I did get to meet everyone and I didn't have to drink 3 bottles of champagne to make it happen :) All I had to do was stalk the guests that hadn't gotten around to signing "the book" Easy.
To make sure you get photos of as many guests as you can (with minimal double ups) you can wait at the reception door and greet the guests as they are walking in, Remember to remind the guests to look for their picture in the guest book before they sign. Alternatively you can wait until they are at their tables, which is what I did. I didn't know enough people to make sure I got them all before hand while they were milling around outside the reception area.
Tips for the perfect handmade Wedding guest book
Grab A Polaroid camera 2nd hand from Ebay. Yes they do still exist. If you can use your own digital camera with one of those portable photo printing devices then forget the polaroid. Fuji have a similar camera too.

Polaroids are better when taken in a lot of light. Outdoors is great.

You cant fit too many people into a Polaroid shot . Three abreast is perfect, 4 is do-able and five abreast is pushing your luck. I did manage to fit up to 8 comfortably in most of the pics with a bit of creative maneuvering.

If you are going to use this idea for your own wedding, ensure that you enlist someone reliable that is not in the wedding party to handle 'all things guest book'. Someone to take the photos and to make sure everyone gets around to signing the book.

Polaroids are pretty big so make sure your book is large enough to fit the pictures.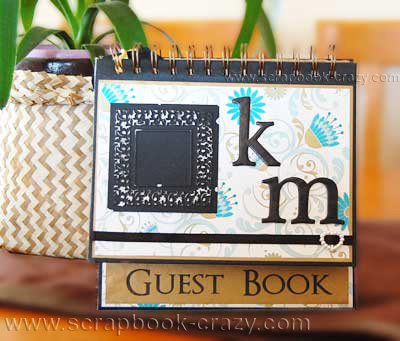 and they lived happily ever after....
Check out our wedding scrapbook ideas
Return from wedding guest book to check out some other themes