Altered Cuisine Scrapbook
Recipe books to store those yummy treats...

Cuisine Scrapbook
My sister is not a scrapbooker, she loves looking at my creations but that's all, so when she asked me to make her something for organizing her recipes of cooking, i was really surprised, happy and thrilled ! So I made her this for Christmas.
Michele Beck
France
More pictures

The spin of the book and the inside binder cover.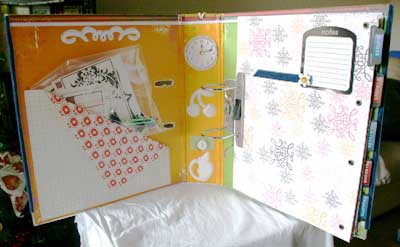 Pocket for holding bits and pieces on the left and recipes on the right.
Related Mini Album Topics
Altered Christmas Scrapbooks and handmade gifts
More Xmas Scrapbooking inspiration and examples
Recipe Book Ideas

Return from Cuisine Scrapbook to HOME