Christmas Ornament album
Well here's the completed Christmas ornament album. I have since made a couple more with the gorgeous new basic grey papers...Dasher I think - I'm really loving my new red ornament but i've already given it away :(
You can't quite see the ribbon attached in these pictures but it is there. You can go back and check out the Christmas tree decoration album tutorial to make this funky little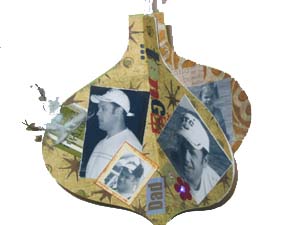 Page 1.

Photos of my darling Atiria showcasing her many moods + some random scraps of paper. doodlebug rub-ons

Page 2.

Photos of Tanga (who wears a cap all the time it seems...), Making Memories rub-ons, Prima flowers with a bit of bling. Random scraps of different papers.

Page 3.

Scary photos + stickers and rub-on monogram tag with a bit of ribbon.

Page 4.

The family photo shot + a few prima flowers with bling (of course) + the title made out of bazzill cardstock and rub-ons.
Related Mini Albums