Easter Fun - Toilet roll mini album
This is a toilet paper roll mini album I made shortly after seeing one on www.scrapbook-crazy.com. It chronicles an Easter weekend spent with my sister, 4 year old nephew and 8 month old niece in VA. We had fun with dress-up, egg hunting and lots of play and snuggle time. I love having this mini album to look back on to remember the fun filled weekend.

I loved the idea of it as soon as I saw the project tutorial and began right away saving a few empty rolls.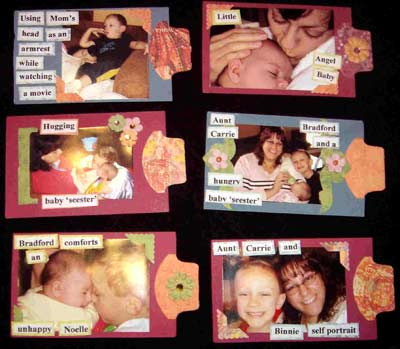 Inserts have photos on both sides and pull out tabs attached
Putting it together
It was super easy to put together. Each page is covered with bright paper; I cut a band of coordinating paper and paper trim to further decorate each page too.
On top of that I added a mini picture to each page front and cut out individual words to describe the picture and tell my story. Each page has a tabbed insert page that has a picture on the front and back of it. These too are decorated with labeled tabs, paper flowers and sparkly bling.


Mommy, bunny and buzz light year...
Embellishments
I used many punches, paper flowers, rhinestone bling and ribbons to decorate the album in coordinating bright and cheerful colors. 2 eyelets were set at the end of each page and 2 key rings hold the book together and allow it to flip open. I tied several colored ribbons onto the rings.
It is one of my most favorite projects!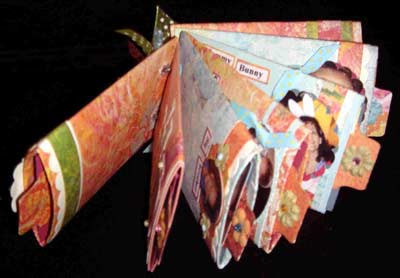 Each page covered with paper and pocket inserts.

Easter morning silly dress ups. "You can call me flower"
Made by Carolyn Lomeo
Henrietta NY
See also
More toilet paper roll craft ideas
Toilet roll mini album tutorial
Scrapbook mini album gallery