Toilet paper roll craft idea - Little book notes
Made with recycled papers
This project is made with recycled toilet rolls and recycled paper on the inside. It is a mini note book.
To make this book I used a toilet tissue roll paper as the cover. I flattened the roll first and then cut down the left hand fold to create a simple cover.
With a needle and thread I stitched in pages made with recycled paper. The front cover of the mini book is decorated with colored drawings. A button is attached on to the front and used for a closure.
Made by Dina Domingues
Portugal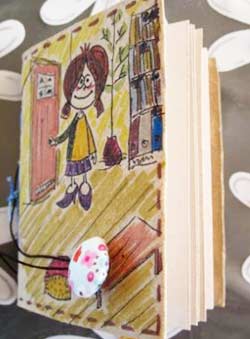 toilet paper roll note book

Front of mini book with button closure

See also
More toilet paper roll craft ideas
Toilet roll mini album tutorial
Scrapbook mini album gallery