Fun Times in the USA - Tissue Paper Roll Mini book with Tags
I learned about making minibooks with tissue paper rolls recently and had to try it out! This is my first one using the rolls and it was a super fun process, resulting in a very cute hand-holdable sized minibook!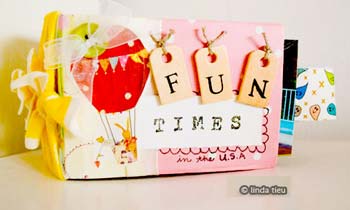 How I made it
My process was pretty simple for the first attempt. I squashed down the paper rolls and covered them with patterned paper, two together to make spreads that could be bound into book form. I also made tags for the openings of all the rolls, all decorated with matching papers and little cut-out graphic embellishments, along with my photos of fun times in the United States. Some of the backsides of the tags were used for journaling.
Binding my mini
The binding is just simply tying each spread into a cardstock paper for strength and in the end you get a very nice little book with lots of room for embellishments. The farther away you tie the spreads, the more width you have for even chunkier items.
Why do I love them
Besides upcycling a normal everyday product, I love the size in using the paper rolls because the minibooks fit nicely into our hands and especially cute for kids to look through. I also love the pockets created for tags!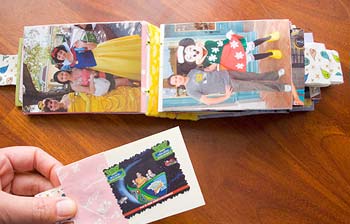 My tips for making your own tissue paper roll mini book
From creating my first minibook using the paper rolls I would recommend not squashing your rolls too tightly, otherwise it gets difficult to stick in the tags. I also recommend not taking on too many tubes at a time in a book...even though it's a small space, with the multiple sides and tags added there's a lot of room for your photos and journaling!
Linda Tieu
Italy

See also
More tissue paper roll mini book ideas
Toilet roll mini album tutorial
Scrapbook mini album gallery