Thoughts mini scrapbook - toilet roll minibook
Sheryl makes a sweet thoughts mini scrapbook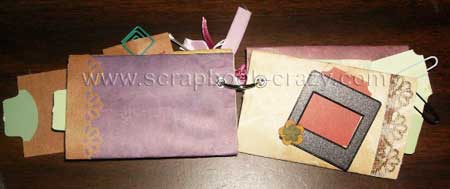 This is a 4 tube mini scrapbook. I find this size works great and is manageable for the recipient. I used neutral papers and also recycles paint chip little cards from the paint store - you know those paint samples. I went there to look for specific colors and used a punch to create the pull tabs for the inner pages.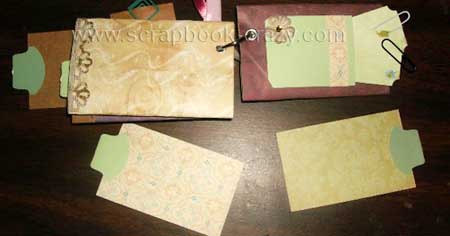 The intended purpose can be for any occasion, because of the warm colors, it could be for a gift, a memory date or a thoughts capture event.
I used tubes of course that I flattened and a good tip is to keep them under something heavy for a few days. I used my bone folder to start the crease or fold. But it still popped up to much for my liking.
I find glue stick worked wonderful on the paper, do not use thick cardstock as it just adds to the popping if you know what I mean. I used colorful paper clips, mini binder clips and photo slides. I enjoyed making these mini scrapbooks so much that I made 4!

By Sheryl Greene
Massachusetts USA
See also
More toilet paper roll craft ideas
Toilet roll mini album tutorial
Scrapbook mini album gallery
Return from thoughts mini scrapbook to home