Christmas Scrapbook Snowman Stocking
Make your own altered stockings for xmas

Scrapbook Snowman Stocking
This project started out as an ugly wooden stocking I purchased from the Dollar Store. When I saw it I could see that it needed a little lovin'.
How I made it
I cut apart the wire that held the toe, heel and cuff to the stocking, giving me 4 pieces to work with.
I covered the wood with coordinating My Mind's Eye glittered paper using Mod Podge. I used a nail file to sand the edges even.
Then I inked all of the edges using Tim Holtz Distress Inks to give each piece a bit of definition and dimension. I used ribbon to sew the parts back together.
I further embellished it with some die cut letters and a Cosmo Cricket Buck naked Chipboard snowman that I covered in coordinating paper.
I added a little doodling and some stickles (but not too much as this was for my very manly husband).
I coated the whole thing in Mod Podge to seal it and keep it nice year after year. After I sealed it I added some Prima flowers.
I made a whole set, one for each member of my family, but this one is my favorite. I try to make something handmade for each person every year.
Beate Ervin
Pa, USA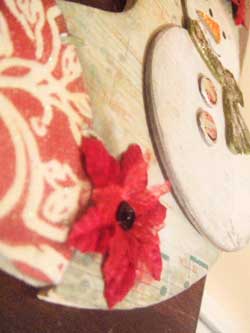 Related Mini Album Topics
Christmas Scrapbooks and gift ideas
More Xmas inspiration to make your presents.
Christmas Mini Albums
How to's for making Christmas mini albums and gifts.
Return from Scrapbook Snowman Stocking to HOME