How to make a Safety Pin Mini Album Scrapbook
Written by Kerri
This tutorial is for a cute piece of Wearable scrapbooking art that you can pin it to your clothing, a backpack or hand bag. It's a small safety pin mini book that is so easy to make even the kids can have a go at creating one. You will have no trouble finding what you need to make this mini book though you might need to buy some jump rings that you will find in the beading and jewelery making section of your department store.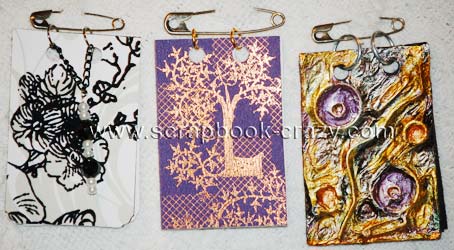 Safety pin mini album
Supplies:
Paper cut to 2"x 3"
2" long safety pin
Hole punch
Two jump rings
Scissors or paper trimmer

Directions
Step one
Cut your pages, back cover and front cover to 2" x 3" rectangles. You can decorate your cover and pages with scrapbooking papers and embellishments.
Step Two
Measure 5/8" from both sides of your pages and punch two holes in one of the pages. Use that page as a guide to punch the holes in the rest of the pages.
Step three
Thread your jump rings through the holes of the covers and all of the pages.
Step four
Fasten the jump rings around the bottom of the safety pin.
Step four
Make sure the sharp side of the safety pin is on the top so you can pin it to clothes or bags.
Other items that you might want to try pinning it to is a favourite teddy bear, a fabric wall hanging or a throw rug.
Made by Kerri.
Thanks Kerri for another cool and unique mini album idea.
Return from this safety pin mini album to see more tutorials