Lori's Romance Scrapbook Mini Album
This romance scrapbook titled "Still the One" is the creation of Lori who was one of the winners for our July mini album competition.
Still the One, By Lori Peuterbaugh
Inspired by a song
I made this album as a gift for her husband, it is based on the 70's pop song "Still the One" by Orleans. The lyrics are part of the journaling throughout the book, all of the pockets in this book were altered to be fold outs for more photos & secret journaling!! And what do you know? My Husband loves it and even told his best friend since childhood all about it, wow!! guys talking about a scrapbook ~ real men!!!
Scrapbook Products used
I made this album is made with nearly 100% Rusty Pickle products and contains lots of beading, sewing, transparencies, a drawer knob, a leather tag which doubles as a bookmark, journaling & a CD of the song by Orleans.

I also applied some effects with the finish on the photos for that 'worn out look'.
Lori Peuterbaugh
Alton, Illinois
When asked why she chose this particular song Lori replies:
"I chose this song because it talks about an enduring relationship, not always pretty, but always 'still the one'. the chorus says, "we're still having fun and you're still the one," sums up how I feel about my husband"

Right On!!!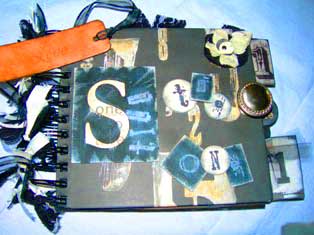 Still the one mini album cover
You can see the leather tag at the top which is attached to the album with ribbon and is used as a bookmark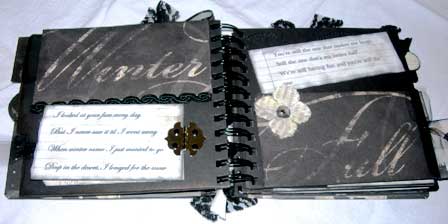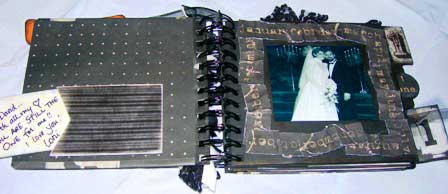 A small love note tucked away in a pocket and a beautiful wedding shot.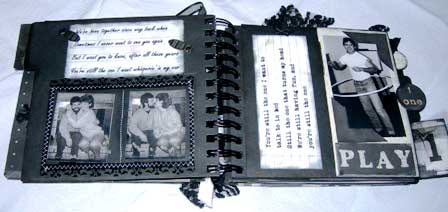 More lyrics and a clever little fold out flap on the right which folds down to reveal....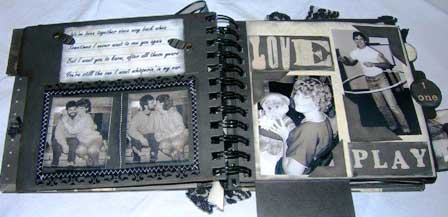 another photo...Love.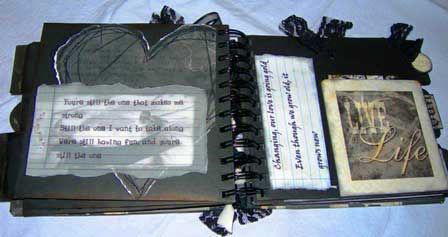 Another fold out flap on the left along with a pocket on the right to hold...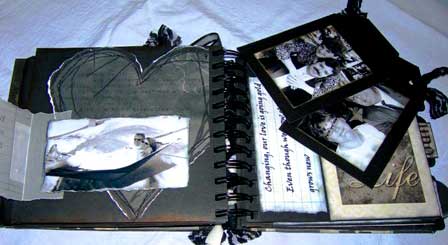 a couple of tags with more photos.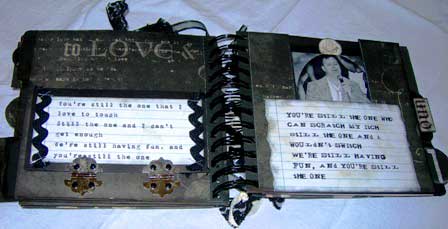 A hinged fold out tab and pocket.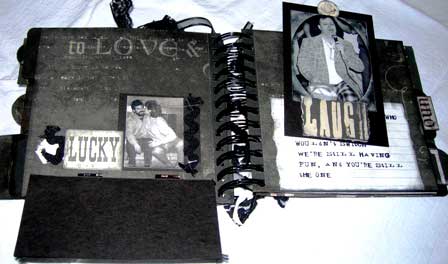 More hidden photos for you to discover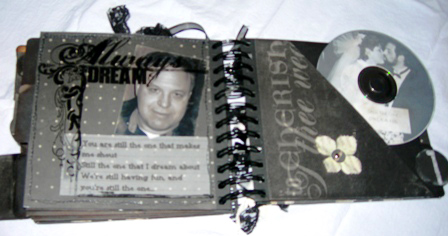 Loris Darling Hubby and a pocket to hold a CD with the song "still the one" Nice touch.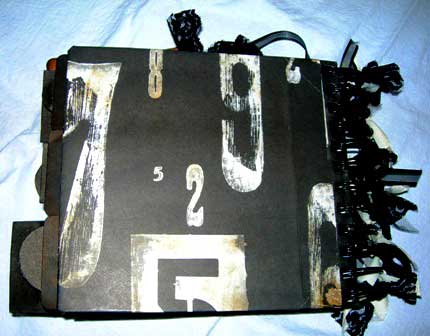 The End.
Still The One - Lyrics courtesy of lyricsdepot.com
Orleans
words and music by John Joseph Hall and Johanna D. Hall

#5 hit in 1976

We've been together since way back when
Sometimes I never want to see you again
But I want you to know, after all these years
You're still the one I want whisperin' in my ear

You're still the one -- I want to talk to in bed
Still the one -- that turns my head
We're still having fun, and you're still the one

I looked at your face every day
But I never saw it 'til I went away
When winter came, I just wanted to go (wanted to go)
Deep in the desert, I longed for the snow

You're still the one -- that makes me laugh
Still the one -- that's my better half
We're still having fun, and you're still the one
You're still the one -- that makes me strong
Still the one -- I want to take along
We're still having fun, and you're still the one (yes you are)

Changing, our love is going gold
Even though we grow old, it grows new

You're still the one -- that I love to touch
Still the one -- and I can't get enough
We're still having fun, and you're still the one

You're still the one -- who can scratch my itch
Still the one -- and I wouldn't switch
We're still having fun, and you're still the one
You are still the one -- that makes me shout
Still the one -- that I dream about
We're still having fun, and you're still the one
You're still the one, yeah still the one
We're still having fun, and you're still the one
Back to the mini album gallery