Recycled Cardboard Scrapbook
Recycle our everyday products into amazing mini scrapbooks.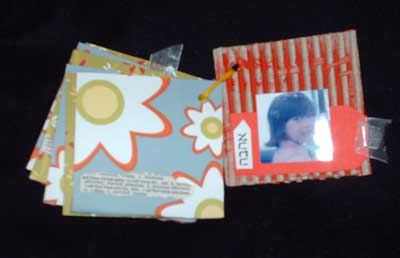 Recycled Cardboard Scrapbook
Keep me in Your Heart Mini Scrapbook
This album can be made with minimal supplies.I made this originally for a challenge using the Quote "Keep me in your heart, I'll stay there forever". I thought it was perfect for a simple mini of my family.
Supplies needed
corrugated cardboard (can be from any box - recycle)

paint

Pattern Paper

embellishments as desired.
Instructions
Take the cardboard and cut three inch squares, as many as pages desired. I used 8. Tear off the paper from ONE side of each square exposing the corrugated part.

Paint the corrugated side with desired color to coordinate with the patterned paper.

Cover flat side with pattern paper. Punch a hole at top left corner at the same place on
all pages.

Adhere photos and quotes/journaling to pages.

Embellish as desired. Attach with string.
My pages had a photo on each corrugated side, simply embellished, with a word. The flat side had a dictionary definition for the word or similar word as some words were in other languages.
Kraftykeepsakes
NJ
more pictures...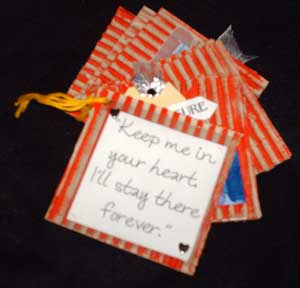 Decorated with a quote.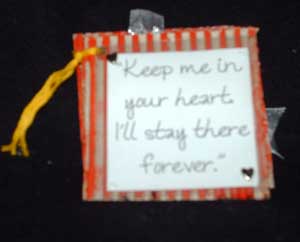 the mini book is secured at the top with fibres.
See more mini book ideas in the mini album gallery
Return from Recycled cardboard scrapbooks to HOME