Oven pizza mini album
Michelle Tandeo thinks way outside the square to create this awesome oven pizza mini book.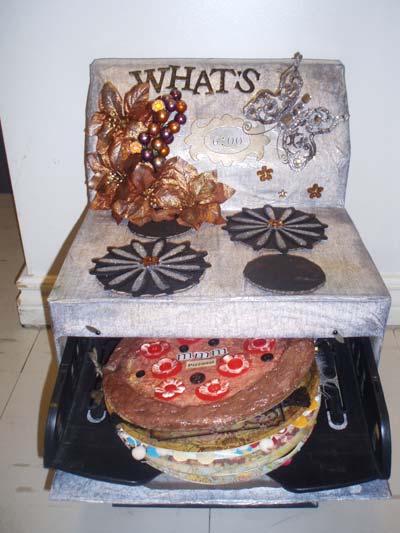 I made this album for a friend and I came up with the idea by cooking one day in my kitchen. For the oven I used a total of 3 boxes to create an oven with the mains section to hold a small mini book and a bottom drawer to hold a second mini, keepsakes or scrapbooking knick knacks. The main oven door is held closed with photo turns and brad. To cover the oven I used decoupage paper, mod podge, and distress inks. Stove top elements were made from chipboard flowers and circles.
What's for dinner?
A pizza mini book of course! I cut several round chipboard pages to make a pizza. I used tissue paper on the front cover to give it some lumpy bumpy texture then painted with acrylic paints. I used modpodge and made toppings from buttons, felt and flowers.
Inside the pizza mini I used lots of prima flowers, chipboard accents, inks, crackle paints, and whole bunch of other great products to embellish.
I love this mini album and it turned out great.
Michelle Tanedo
Ontario, Canada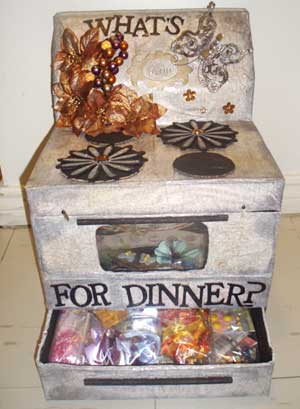 Pizza Mini Scrapbook
See also
Scrapbook mini album gallery
Mini album tutorials
Return from Oven Pizza Mini album to HOME