A Mini Tea Book
Tea books make great teacher appreciation gifts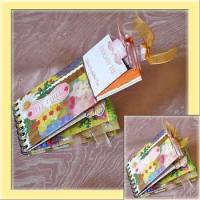 I've made a Tea-Book with toilet rolls. Five toilet rolls have been covered entirely with patterned wrapping paper and then flattened.
There are 5 rolls for:
herbal tea

black tea

roibusch

fruit tea and

Green tea
In each roll I have inserted a covered teabag and a handmade tag with information printed on it about how the tea should be prepared - including how long the tea needs to take to steep and the preferred temperature of the water
As well as being able to hold the teabags you can also stick photos and create a super small mini-album. More keepsakes and giveaways can be tucked in behind bright colored rubber bands.
I hope you like my tea-book.
Made by Gabi
Internet Faszination

See also
More tea book toilet roll craft ideas
Toilet roll mini album tutorial
Scrapbook mini album gallery