Ann's Love Accordion Album
Love Accordion Album, By Ann Chapman
Inspiration
The first thing that inspired me to do something like this was a little box I found at the dollar store! I immediately thought of a love theme album for my husband and I knew I already had the perfect papers to coordinate! There was no special occasion for the album, other than my husband and myself having a great talk that weekend and it sparked the creative drive to do the album.
How to make the accordion album
I decided to do a mini accordion album to fit inside the box. I measured the box, which was just over 4"x4". I cut 3 strips of 4"x12" black cardstock, folded each strip into an accordion and overlapped the ends and attached with double sided tape.
Hot Tip!!
I left the top of the overlapped squares open to make a pocket so I could fit small tags inside for extra journaling.
Scrapbooking products I used
From there I laid out all of my paper and embellishments that went with my theme & color. I used Creative Imaginations & Basic Grey Scarlet's Letter patterned paper, Creative Imaginations' journaling book for journaling and accents and used two 7 Gypsies tags to put in the hidden pockets & one on the box lid and I used Basic Grey rub-ons throughout. The chipboard letters used on the cover of the album are Scenic Route; the black & white polka dot ribbon is from the dollar store; the crimson flower on cover is Making Memories.

I actually made the album first, then went and searched through my photos to see what I had. I ended up pulling out a few of our wedding pictures from 8 years ago as I thought they went well with the theme (and I found we don't actually have a lot of pictures of the two of us together!). I then re-sized and printed off other photos to put into the album. I then decided to embellish a bit more with rub-ons.

I used the same ribbon on the box lid & added a 7 Gypsies tag on the front & added a "Sealed with a Kiss" stamp from Studio G.

I absolutely loved making this album and love to flip through it often! My husband was very touched at receiving this album!
Ann Chapman
EllaBella Design Studios

Front of Love accordion album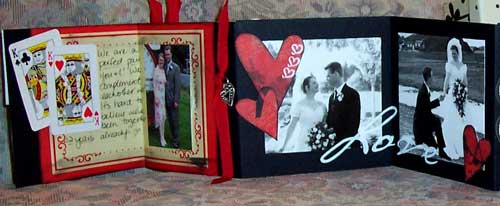 Beautiful black, red and white papers are perfect for a love or valentines mini album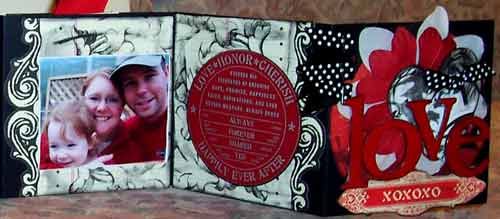 Family photos and trimmed pattern paper.

Reverse side of the concertina album


Journaling spots for some love notes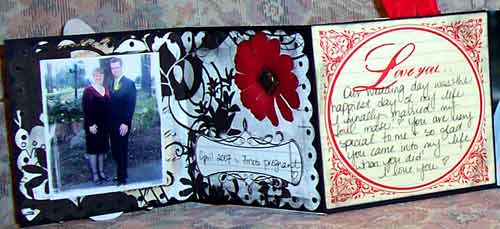 Scalloped photo matts and inked edges - Fabulous album
Back to the mini album gallery