Kirigami Christmas Ornament - A Snowbird
Create your own traditional ornaments to treasure.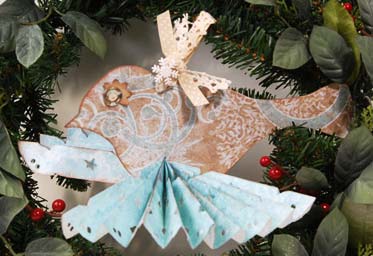 Snowbird Kirigami Christmas Ornament
Christmas is my favorite time of year. To decorate our tree, I like to make a few handcrafted ornaments every year. This year, I created this snowbird ornament. I like to implement different techniques, so I used a form of Kirigami by folding and snipping out designs for the wings. I used a chipboard bird from the Maya Road album, covered with pattern papers and cut a slit in it for the wings. I embellished with ribbons, snowflakes, flowers and added jewels for eyes.
I hope this snowbird ornament inspires you to create your own family heirlooms for future generations to enjoy!
Snow Bird Ornament Supplies:
Bo-bunny Winter Whisper
Bo-bunny Winter Whisper Frost
Bo-bunny Almond Dot
Bo-bunny Bella Journee Ribbon
Bo-bunny Flower
Dress It Up Snowflakes
Avery Glue Stick
Maya Road Chipboard Bird
Created by Tish Treadaway
Harrisburg, NC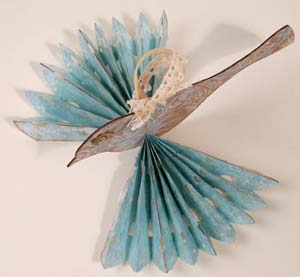 Related Mini Album Topics
Altered Christmas Scrapbooks and handmade gifts
More Xmas Scrapbooking inspiration and examples
Christmas Mini Albums
Tutorials for making Christmas mini books and gift ideas
Return from kirigami christmas ornament to HOME