Kids Scrapbook Story Book
"Amy makes a terrific kids scrapbook"

No Tenemos Huevos (We Don't Have Eggs!)
Whenever I get a project in one of my classes I LOVE to go all out and put my style and passion for scrapbooking into it. So when my Spanish teacher assigned us a project requiring us to write and create a childrens' book I was very excited. In short, my story is about two best friends, Amora and Soledad, who want to bake a cake for Amora's brother's graduation party. While making the cake, however, they realize they do not have any eggs. Their good friend Needa raises hens so she gladly donates eggs to them (note: it is a childrens' book so the plot is very straightforward...hehe). My inspiration came from my mom who taught me how to bake, my brother who graduated high school two weeks ago, my best friend Soraya who I love dearly, and finally to my friend Nisa who actually does raise chickens.
MY TIP !!
If you want to use up your scraps and create a fun vibrant project use a RAINBOW color scheme. You won't have to decide if "this paper matches with that paper or this embellishment." Everything works! Also, inking the edges of different elements gives projects a finished look similar to matting.
PRODUCTS !!
After making my word album from cardstock I selected some colorful patterned papers from DCWV All Occasions Stack. Embellishments include chipboard by K & Company, stickers by EK Success, ribbon by Spool o' Ribbon, buttons by Dress It Up, flowers by Prima, and a few office brads.
I drew the illustrations for the story and colored them with Crayola's 50 Super Tip markers. For the story's text I typed it up on the computer and cut it into strips and then inked the edges.
I had so much fun giving some scrapbooking flare to my school project. It makes the assignment all the more enjoyable and shows teachers the time and effort I put into my work. My rather obsessive-compulsive tendencies over the details as well as the project as a whole are all worth it!
Thanks for looking!!

Amy Hoang
Irvine, California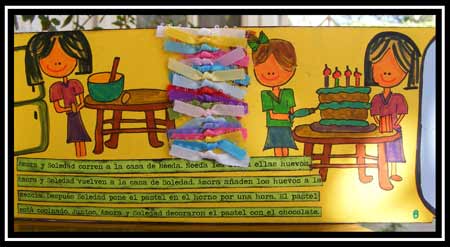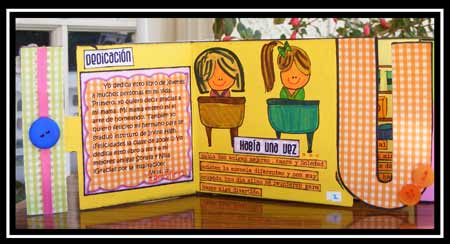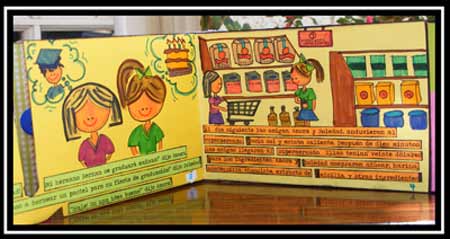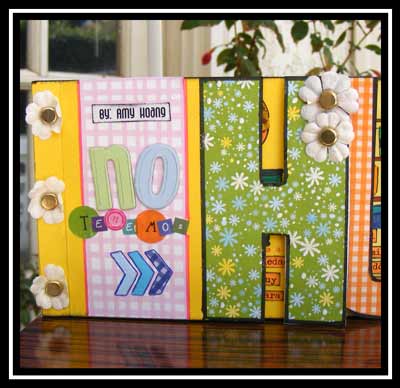 Thanks Amy for sharing your mini book. It's awesome! If you would like to share your kids scrapbook or mini album then send it over via the contact form.
Return from Amy's kids scrapbook mini album to home