How to make an ID Badge Holder Mini Album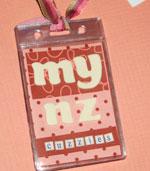 If you want a nice and easy mini album to make then a badge holder mini album is the way to go. You don't need much at all to make one, just a couple of pieces of coordinating papers, some ribbon, photos and the badge holders themselves which you'll find at your local office stationary store. They are usually sold in packs of ten.
They make great little mini brag books that you can carry around in your handbag. They're pretty tough thanks to the plastic pockets, each page is protected quite nicely from every day wear and tear.
Mini badge book materials:
4 or 5 badge holders (you can buy these in packs of 10 from your office stationary store.
Patterned scrapbook paper (paper is preferable to card stock but either will do fine)
Ribbon - approx 15" should be enough
Paper trimmer, scissors adhesive - glue or tape
Embellishments like ribbon, brads, scrap papers and other decorative bits and pieces that are not too lumpy bumpy
corner rounder is optional
Making the album
Step 1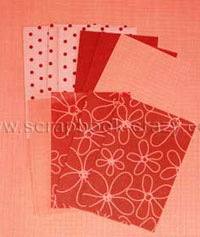 Take your 5 badge holders and measure the inside pocket where your pages will slip in. Alternatively you can check the back of the pack for the insert measurements.
My pages measured approx 3 1/4" x 2 1/4".
Subtract about an 1/8th of an inch off the total width and length values and use these measurements to cut 10 page inserts from your patterned paper.
Step 2:
Take your photos and craft embellishments and create your small mini layouts. The photos will need to be very small to fit onto the pages for this mini scrapbook. Make sure you have your best pics on hand.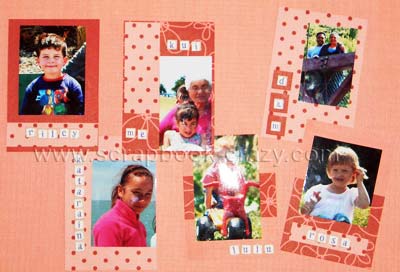 Step 3:
Slip your embellished pages in to the id pockets. thread a couple of lengths of ribbon into the middle slot and tie into a knot. You can tie ribbon or fibers through all the pre-punched holes to bind your mini book if you wish. You may also use a binder ring as well.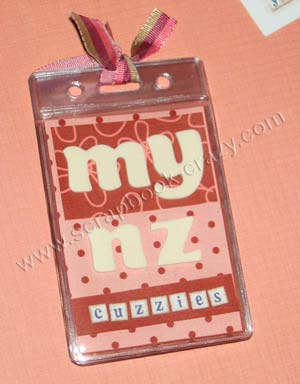 Badge mini scrapbook filled with akw's cousins in NZ so she won't forget them.
HOT TIPS
There you have it. One super mini scrapbook made in a snap. Here are a few more tips for making these mini books.
As I mentioned earlier I like to use thinner scrapbook papers as the fit a little better than thicker card. Also if you use double sided paper then you can create a page layout on each side which is even better.

Trim your photos to fill the entire pocket for a super quick and easy mini.

This size mini is great for using leftover paper. For this ten page mini I only used two strips of 12"x3 1/4" inch pieces of double sided chatterbox scrapbook papers. That isn't much paper at all.

These make great for kids to play with and read, brag books for your own handbag or perhaps for grandma. They are an alternative to the usual gift cards you send to family.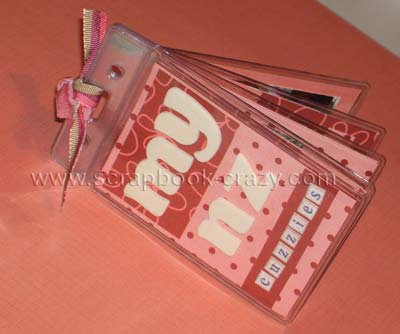 If you have created your own id badge mini scrapbook and have some tips or advice for making these mini albums that you would like to share then we'd love to hear from you. Leave me a message via the contact form.
Like this id badge holder mini album then check out our other ideas