Hot Chocolate Garland, Wreath and Tree toper
Making Christmas decorations from scrapbooking products and Starbucks cups!

Hot Chocolate Garland
I came across these little paper cups at Starbucks, and instantly thought 'What a great Garland they would make with a bit of altering' So I gathered up some cups and took them home, I strung them on some twine, added some stickles and white stuffing for the whip cream. I then sprinkled gold glitter on top of the stuffing for the Chocolate sprinkles. I had enough cups left over to create a coordinationg wreath and tree topper.
Hand made by Bree Tetz
Edmonton, Canada
More Pictures...

Hot Chocolate Wreath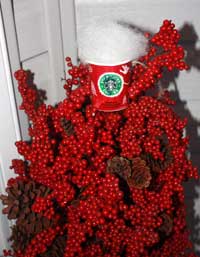 Hot Chocolate Tree Topper
See more Altered Christmas Scrapbooks and handmade gifts
Return from Hot Chocolate Garland to HOME