Handmade Pocket Calendar
A calendar is a fabulous Christmas gift to make.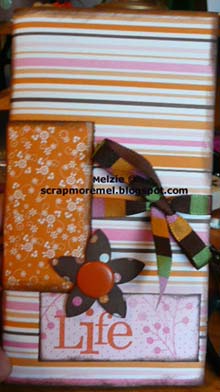 Handmade Pocket Calendar
I made 2009 pocket calendar's for all my church co-horts. They are really simple, cute, and personal.
Melissa Woodland
Montana
You can embellish cheap pocket calendars that you can purchase from your local dollar store for quick and easy gift ideas. Simply cover it with patterned cardstock of your choice. Embellish with stamps, flowers, die cuts and whatever you have in your scrapstash. Create a ribbon closure and you are all set.
Related Topics
Scrapbook Calendars
See more ideas and tutorials to show you how to make a scrapbook calendar
Altered Christmas Scrapbooks and handmade gifts
More Xmas Scrapbooking ideas and examples
Return from Handmade Pocket Calendar to HOME