Easter Mini Album
Easter 2007
The inspiration for my Easter mini album came to me last year when I worked the Memory Expo in NJ. As I walked around, I saw a table that sold board book kits. Everything was included (book, paper, the word Easter, ribbon and a brad). It seems like I take the same pictures every year during the week of Easter. I chose last year because we added a new tradition. Dinner at Aunt Addie's (my cousin) on Good Friday.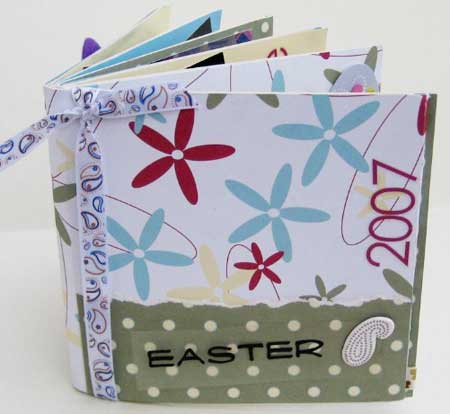 Who the book was made for:
I like to think I make them for myself and my daughters even though I try to show them off whenever I get a chance. My 2 little ones keep going back to my albums over and over again, really makes me feel good that they love them and get inspired to do their own pages. My 8 yr old brought my 2 recent minis to schoold to show her teacher because her teacher likes to scrap as well.
Supplies, How To and Journaling:
This is a small board book that measures 5 x 5 and has 4 pages inside. I decorated each page front and back and the inside covers. For this album, I chose an Easter theme. These pictures are from April 2007. I took all the papers that came with the album and simply tore them. This is the soft way (for me) to add dimension without the inking. Remember I did this album in one day. I tied off some ribbon around the binding, added a brad on the front to hold on the word Easter and used some stickers for the year.
On the inside cover I chose to give a brief journaling to what was inside this cute little book. It reads:
We have many traditions for Easter. Thursday before, we decorate eggs at our home with daddy. On Good Friday, we go by Aunt Adeline's for egg decorating, egg hunting and Aunt Buster's yummy mac & cheese with fish. On Saturday, daddy and I take you to Keansburg to go on the rides and play the games. Finally, it's Easter! You wake up to overflowing baskets and have fun during your egg hunt.

Then on each page I would put a picture or two that goes with the journaling in the order of things happening and put a word or a little sentence on each page. I used some letter stickers, SandyLion Essential egg stickers, ribbon that came with the kit and my SU marker. Very simple and a lot of fun.
Thank you for taking the time to look over my Easter 2007 mini album
Kimmarie Baker
Wood-Ridge, NJ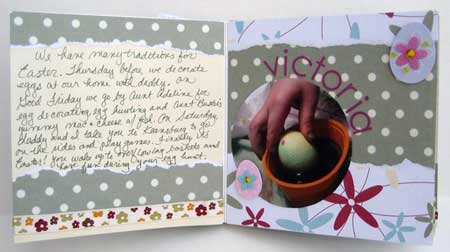 Inside cover with journaling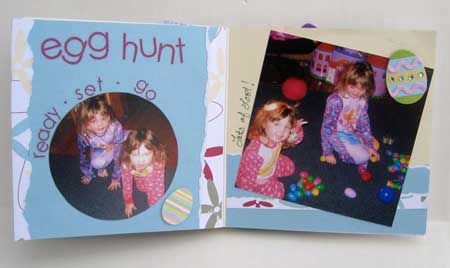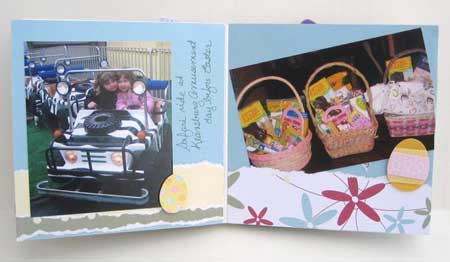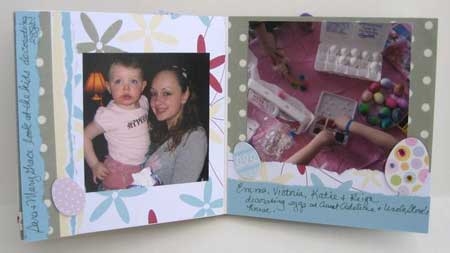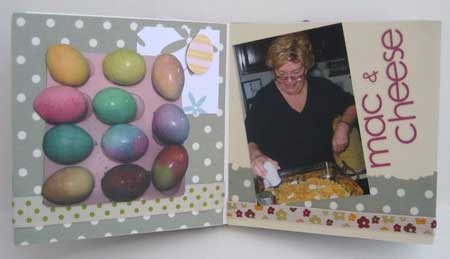 Thanks Kimmarie for sharing your Easter keepsake with us. If you have an easter mini album you would like to share then send it via the submit form
Return from Kimmarie's Easter Mini Album to home